My parents built their beautiful home about 7 years ago. Since moving in, my mom has been busy practically that entire time upgrading and renovating and decorating and redecorating. But recently she was ready to for something entirely new and asked me to bring in my perspective. She has always been drawn to the shabby chic look, so we wanted something that was still light and airy, but with a contemporary edge.
One of the first things we did was take out the heavy drapes that were hanging along the back wall, covering up her beautiful windows. Privacy was not an issue/concern in this space and my mom has a gorgeous backyard. We really wanted to bring the outdoors in. To help do that we bought two large black urns on clearance at Lowes and planted large hydrangeas, which we were assured would fill out and thrive in that shady spot on the back porch. The large urns really have a presence in the living room, even through the windows:
The piano was painted white years ago. We all love it so much that we didn't change a thing there. It just fits my mom. Though we did upholster the plain, solid wood bench with a little foam, batting, fabric and trim.
We replaced mom's old sofa and love seat with a pair of new sofas. Well, I guess one new and one old. The antique empire sofa was a $200 Craigslist find that my mom reupholstered herself.
To add some contemporary, clean lines to the room we ordered the Loring sofa from Room and Board in taupe.

We printed family photos in sepia tones and hung them over the new sofa using my favorite Target frames in white. The vintage secretary was another Craigslist find.
My mom loved our console table project here at my house so much that she made another one for her living room using the same inexpensive ikat in a different colorway.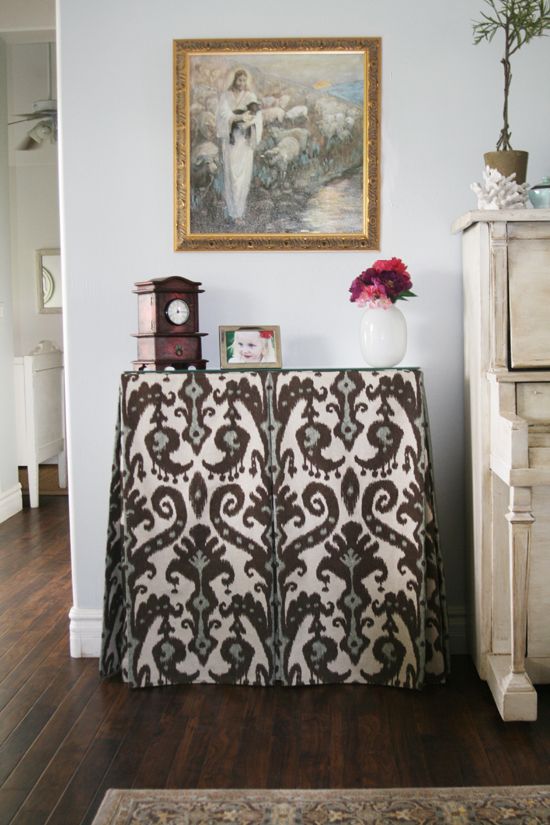 The room was put together rather quickly and needs some tweaking (the rug is too small and we need more accessories), but overall I love it and my mom is really happy with the changes.
Stay tuned for more projects from my mom's house…