I have been so drawn to aqua and red color combos lately (here and here). So of course, I loved seeing this adorable nursery Cara emailed me about. She wanted to share her fantastic results with my pelmet box tutorial:

The fabric is Alexander Henry's Country Cross Stitch (available at JoAnn's and at Purl SoHo). The red trim is 1/4″ bias tape.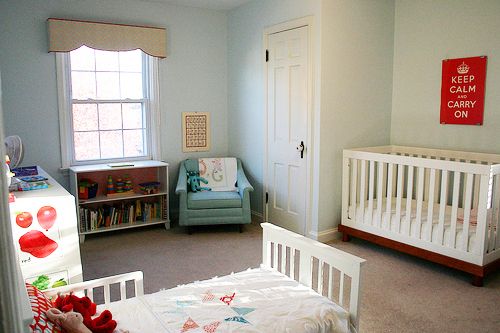 The wall color is Baby Bird by Porter Paints.
The crib (and not pictured dresser) are from Wal-Mart's Baby Mod line, which I've used in other client's projects before. I love the furniture line and so does Cara.

Cara found the adorable vintage chair for $10. It was in pretty bad shape when she bought it!

She had it reupholstered in Fabricut's Bonomi Chevron in Sky.

Doesn't it look comfy and perfect for a nursery?

The two pieces of art on the wall are from Etsy sellers. The Stay Calm poster is by sfgirlbybay and ASL poster is from TwoSarahs.

The toddler bed was a $30 resale shop find. Cara sewed the adorable pillow and quilt on the bed.

The white bookshelf is from Target (here's a similar one). Cara hodge-podged some Martha Stewart paper on the inside back to give it some color.

And check out this mini quilt! Isn't it adorable? Apparently there are plans to make a whole wall's worth of different mini-quilts! WOW!

Great job, Cara! And thanks for sharing your beautiful photos!