The arrival of this baby is imminent (Michael is timing my contractions as I type this). There were plenty of false starts this weekend though, so we'll see when she actually decides to grace us with her presence!
My own bedroom is coming along, but it's not finished like I hoped it would be after this weekend. It's probably going to take another week or two to finish it now. As a consolation prize, I'll share photos of a bedroom I decorated earlier this year in Rhode Island. There hadn't been an opportunity to take the 'after' photos until recently. My INCREDIBLY talented photographer friend, Terese, took these photos for me. Seriously, Boston friends, if you need a last minute family Christmas card photo shoot, Terese is your gal. She is especially amazing with children.
Now for the room play-by-play.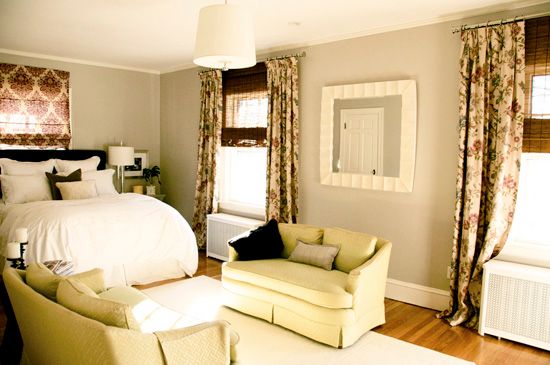 The inspiration for this room began with this fabric from Calico Corners.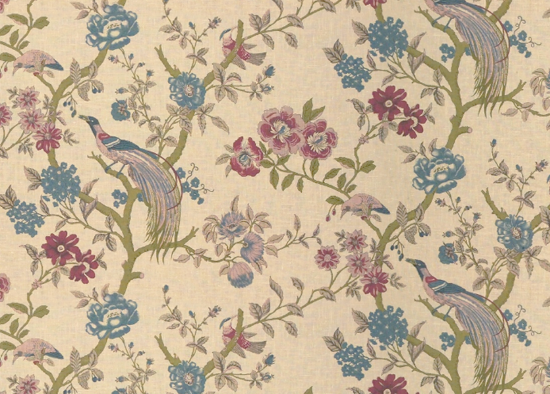 I love the colors – magenta, peacock blue and chartreuse!
My (unfortunately now retired) Boston seamstress sewed the lined and interlined pinch-pleated panels for $50 each – a total steal. I found her through craigslist, asked her for pricing and for pictures of her work. She was so great to work with.
The polished nickel curtain hardware was a sale find at West Elm. I love the bit of sparkle they bring. The woven shades were a clearance item at Home Depot.
The vintage love seats were a total eBay score. They are made by Henredon and are super high-quality. We got them both for $560 total. The existing green trellis fabric works well for now and my client has grand plans for reupholstering these gems at some point down the road.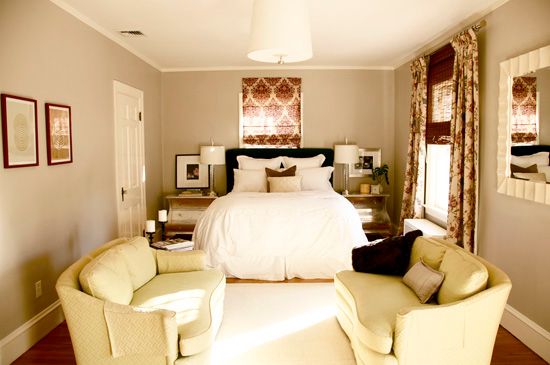 The cream rug is from IKEA. The hanging pendant lamp is Mitchell Gold+Bob Williams. The large mirror on the wall to the right of the love seats is a vintage mid-century find from Craigslist. I love that mirror so much – it was hard to part with!
The artwork above the sofas is by Molly M. They are very affordable laser cuts. We framed the pieces in my favorite Target frames, which were painted out in magenta craft paint.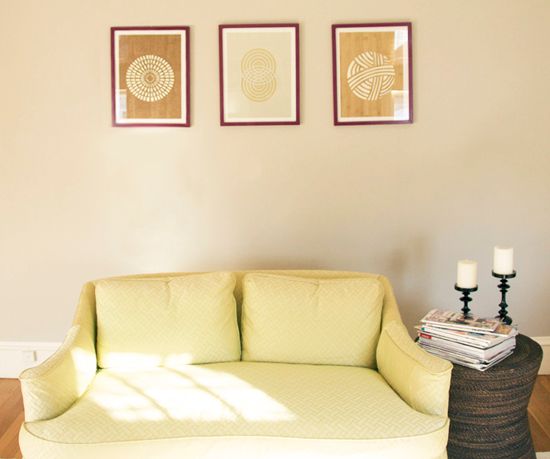 My client had a carpenter add a window seat and a seamstress made the seat cushion and skirt out of some fabric from JoAnns. The small black side table was a clearance find at Target.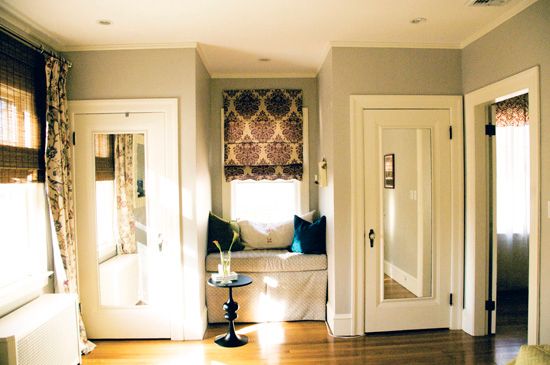 The monogrammed linen pillow is from the Shabby Chic store and the green and peacock blue pillows are from Crate & Barrel.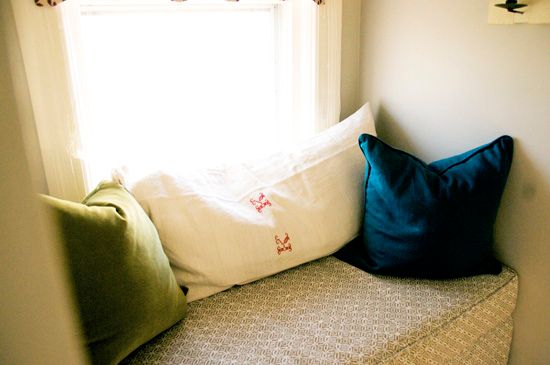 I bought plain white fabric shades at the Christmas Tree Shoppe (which is very similar to a BigLots, for those of you not familiar) for just a few dollars each. The shades have a fun scallop detail at the bottom, which I loved. I simply used about a yard and a half (for two shades) of this fabric from Calico and glued on (Fabritac) the yardage directly to the existing fabric shade.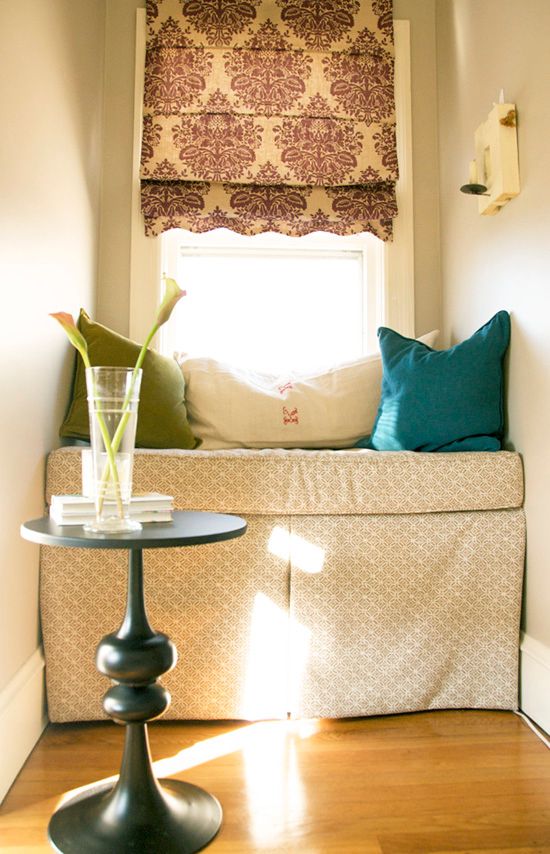 The headboard was something my client purchased on clearance from Pier 1 – it was a dark and heavy wooden piece. We wanted to add more fabric and texture to the room, so we simply added a 2×4 to square off the headboard,

and then wrapped it all up with an egg crate mattress pad (cheapest foam out there!) and batting and some peacock blue velvet and stapled everything into place.

Here's a 'during' shot from installation day:
And the 'after':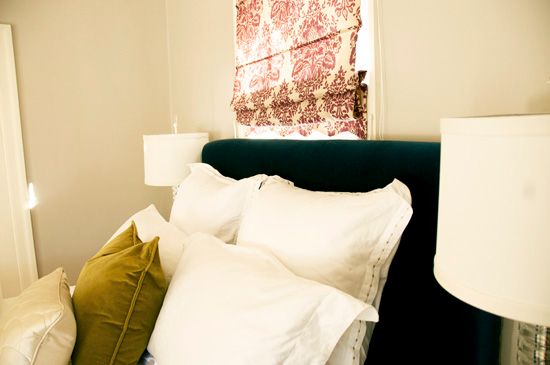 The bedding is Barbara Barry's 'Pearl', available here on great sale. My client found her entire set, brand new in the package, on eBay for about 1/5 the retail price. It pays to stalk eBay!!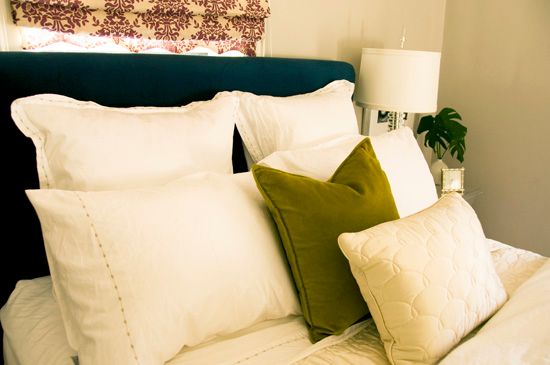 The side table lamps are from Restoration Hardware (no longer available, though these are close), and the shades are custom silk from a local lighting shop.
The side tables are my favorite part of the room. We really wanted a pair of mirrored nightstands, but found that those are either cheapy looking or crazy expensive. So we went the DIY route and silver-leafed over some seriously ugly clearance side tables from Home Goods. I need to dig up the photos on this project and will do a separate post on that later.
The knobs are vintage lucite from eBay. The peony art is from the extremely talented photographer and etsy seller, Kari Herer. The black and white photo of pots (below) is from West Elm, currently on sale in stores for $30. The clock is from Pottery Barn.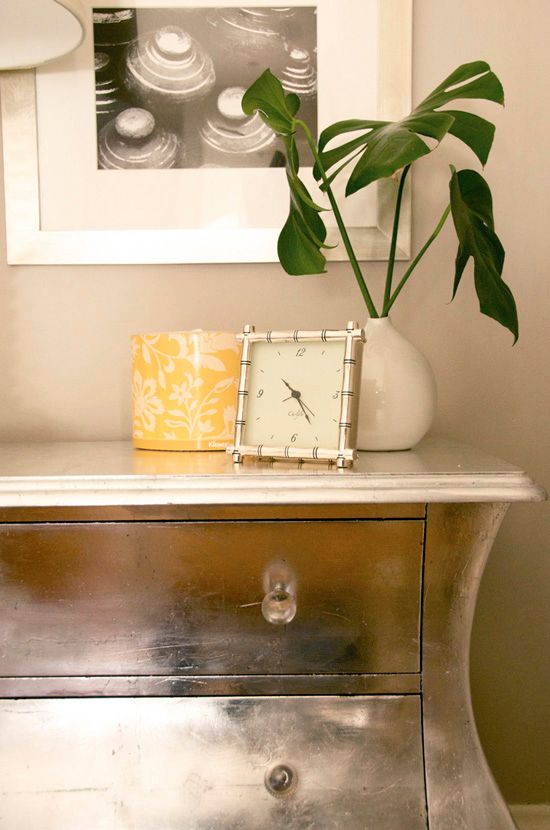 This was such a fun project! A huge thanks to my wonderful Rhode Island client, Ms. K. And many, many thanks to Terese for the photos!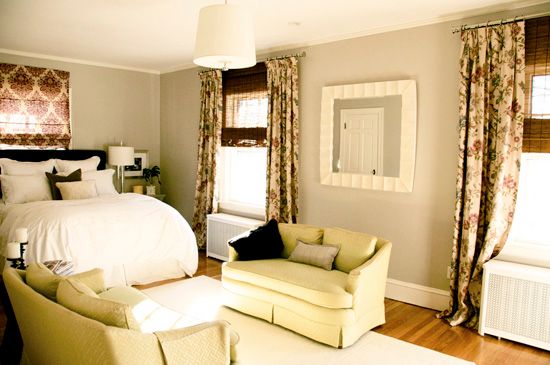 Okay, wish me luck! I'm just PRAYING that I go into real labor soon. I'm so DONE!!
lots of love,
jenny