To make myself feel better, I like to imagine that everyone hoards at least something. Unfortunately, I hoard several somethings. Ribbon is definitely in that category (along with fabric, chairs, mirrors, and lamps – my poor husband).
Can't. Stop. BUYING!
I just love the way ribbon transforms lamp shades, pillows, picture mats and curtains.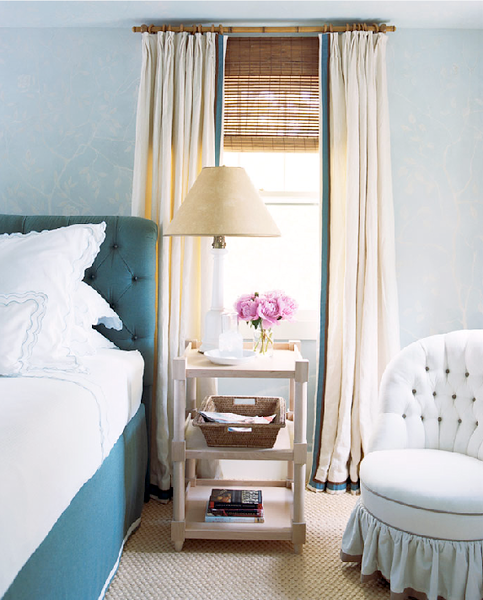 Here are some of my picks from a really great trim resource – Renaissance Ribbons.
Plum Taffeta ($2.55 per yard) Love the dot details. There are lots of color options in this style.


I love plaid ($1.15 per yard) for a little boys room or a den.


Red embroidered scroll on linen ($5.35)

There's orange and navy too


Green poppies ($9.05)

Khaki embroidered medallions on linen ($5.35)

Green leaf ($4.95) looks like it belongs in Lauren's living room.

Green Chinese Medallions ($4.35)

Pink Floral ($9.60)

Salmon floral ($5.65)

One of my clients is doing her master bedroom in lavender and grays and I've been so drawn to the color combo lately… Lavender and gray ($2.45)

Blue wide stripes ($3.80)

Lime flowers on mauve ($3.50/yd) – so cute on some simple sold color panels for a little girl's room.

This one, too…
Rust mini-flowers ($1.25/yd)
Other places I often look for trim…
M&J Trimmings
trimfabric.com
L&S (especially for Greek key trim)
Do you have any good secret sources for ribbon?