Hi friends,
Happy Monday! I hope you had as much fun as I did this weekend. I'm home with my family in Arizona. We had a mini family reunion here and it was so wonderful to see almost all my siblings and their families (though we missed you, Heather!).
As a side note, I'm shockingly behind on emails. I won't be back in Delaware until March 3, and won't really be working at full speed until then. If you need an answer faster than that, please email me a second time. Thanks!
One of the fun parts about coming to see family is they always let me experiment with their home decorating projects. I usually get to do four or five projects or rooms each trip.

My sister moved to a new house this year and I think we're going to try this project from Southern Living in her kitchen. She has an end cabinet that looks just like this one in the picture.
Right now it's painted with chalkboard paint, which we'll keep, but I think some of these suggested additions will do just the trick, like a piece of cork, a magnet board and some trim to finish off the look.
Thanks to a tip from an LGN reader, we will order some over-sized nail heads from this site.

And for the ribbon border we'll be making a stop to one of my favorite little shops in Mesa – Ribbons and Lace.
We're planning to pick up a roll of cork at Michaels and we'll get some metal sheeting cut at Home Depot for the magnet board.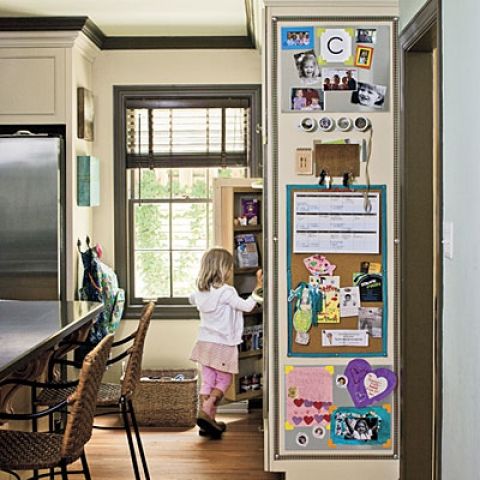 images via Southern Living