The silver-leafed cabinets are going to get some new clothes this week. Like I mentioned, the idea was for the cabinets to be an icy blue, (they are currently painted Benjamin Moore's White Ice), but the sunlight in our apartment is so funny. It changes dramatically all day long and most of the time the cabinets look pretty white actually. It's nice, but there is a lot of white in our loft (walls AND floors), so I was hoping the color would have read as a little more blue than it does most of the time. I wanted a pale blue, but not as icy and with a *hint* of green.
Then I did what I should have just done in the first place. I picked up a $3 sample pot from Home Depot. I probably should have picked up a few colors while I was there for comparison's sake, but as soon as I saw the color chip for Martha's Sparkling Brook, I knew that's what I wanted for the cabinets.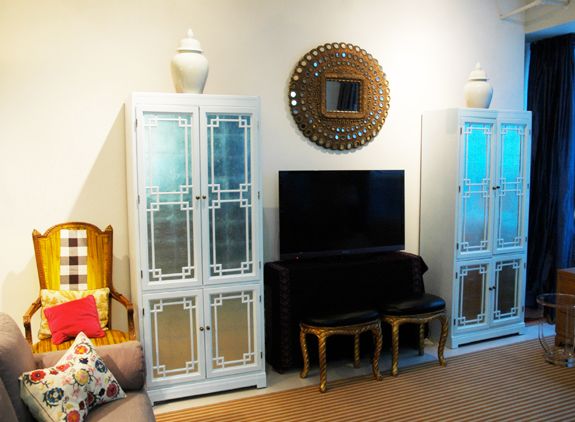 I tried a sample patch on the top left corner of the cabinet on the right. I love it. It's similar to the old color, but different enough that it will be worth painting the cabinets again. It's definitely more of what I envisioned in the first place.
Then I ran across this image of Ashley Whittaker's living room today, and I think this is the inspiration my subconscious had all along. Decision confirmed.
Domino
Oh! And how could I possibly forget:
Elle Decor
(Speaking of Mr. Hadley – I'm dying to go to his Sotheby's auction today and bid on that amazing Serge Roche mirror.)