Like I mentioned last week, the bookshelf in our living area is not really meant for books. It's placed in a really narrow walkway where no other piece of furniture would really fit. This shelf works really well as a console table and storage unit of sorts.
I finally styled the shelves a little bit this weekend and I thought some of you might like to see how I usually approach shelf styling.
1) Gather up all your potential accessories, keeping in mind the dimensions of your shelves.
a) Big items – usually storage pieces. These bigger pieces help to visually break things up on the shelves. Here, I decided on a mix of colors and patterns. The emerald green vase and the ginger jar are from Home Goods. The red Chinese box is an antique and the lacquered aqua box is an old IKEA hack. The wood box with the handle is a backgammon set I didn't know we had. I found it with our other games (it might have been a wedding present? yikes.) and it's actually really pretty. I'm excited to relearn Backgammon!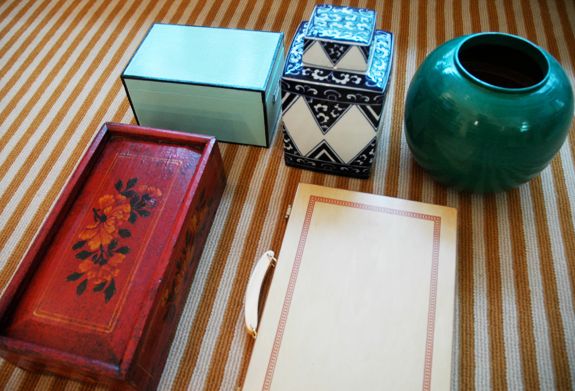 b) Books. I decided to display a couple of the pretty book sets we have. I'm sure you know about the Coralie Bickford-Smith classics. The others simply look pretty or have sentimental meaning to our family.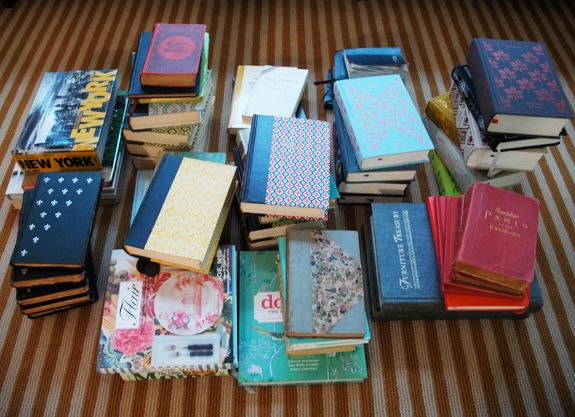 Which reminds me. Right before we left Delaware, I found a huge box of Reader's Digest books for free. The spines have cool color blocking, but the patterned covers are to die for. I love that every book is different. (Check out eBay here for lots of these)
c) Tchotchkes. I know they're not for everyone, but I love little accessories. I like to buy my travel souvenirs in local antique shops or flea markets, so all of the little things we have are reminders of places we've lived or visited. I didn't spend more than a few dollars on anything here, so it doesn't scare me if my girls want to examine items. Plus it's fun to tell them the story behind an object.
Also in this group are some family pictures and a few small pieces of art. Jordan Ferney's husband, Paul, painted my hometown's Red Mountain beautifully.
2) Place your bigger storage items on the shelves first. I usually like to start out with a symmetrical arrangement and then adjust as I go. Some of the bigger items here start out in the center and then get moved later.
I put that little milk glass tray on the top shelf for corralling keys and polaroid pictures. The two wooden boxes hold stationary and the turquoise felt bins are for baby changing supplies. Also, we keep fish food in the blue jar up top. Everything does double duty in an apartment!
3) Next step: Place your bigger books and stack them horizontally. I like to push my stacks of books all the way over so that the bottoms of all the books bump up to the shelf edge rather than being center justified. Personal preference – just looks cleaner to me.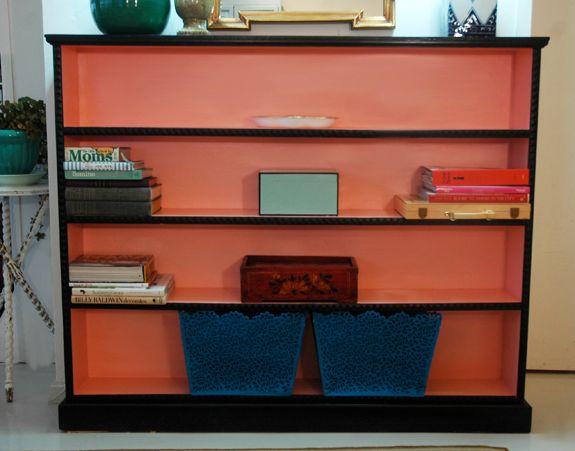 4) Next, place any groupings of books. Here, I added the Bickford-Smith series and some of the Reader's Digest books. Keep these upright.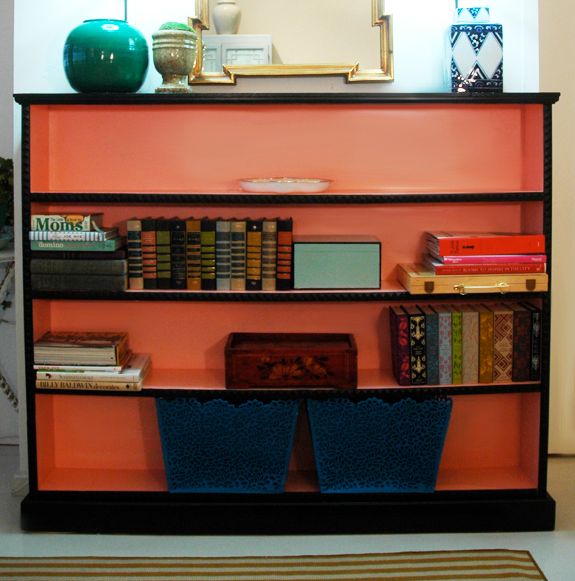 5) Add other random small books. Consider grouping by color or category. All the books in the left hand corner are antique books bought in our favorite cities, about our favorite cities. The books on the right are for night time family scriptures and some other books that are special to us, including a really beautiful book of poetry from my Grandma.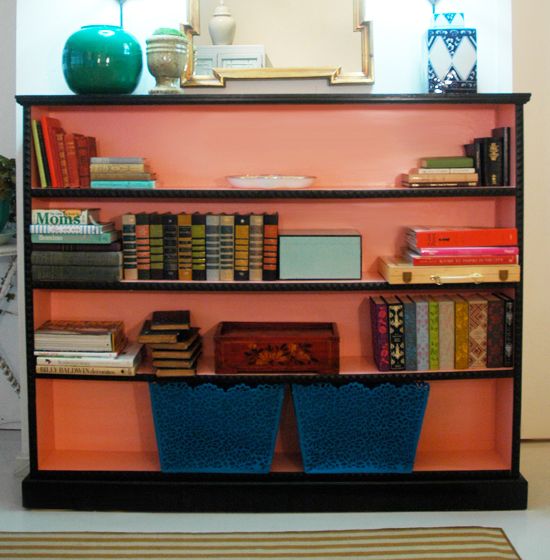 6) OVER-accessorize. In this step I like to layer on all the little stuff. I really pack it in and fill up almost every inch of space.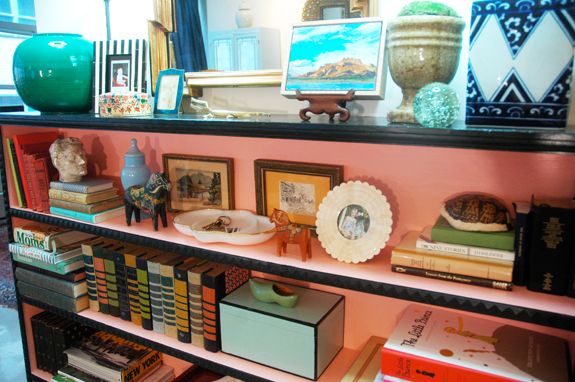 7) Edit. Step back and figure out what's working and what's not. Pull off an item that isn't the right color or the right size and then step back again. Keeping pulling accessories off until there is a good balance of empty and filled space.
– Try to balance the colors of items used and also the scale/heights. If a grouping is all the same color or all the same height, the shelves will read as really flat.
– Remember that things meant to be examined should be kept at eye level. Don't put picture frames on the bottom shelves.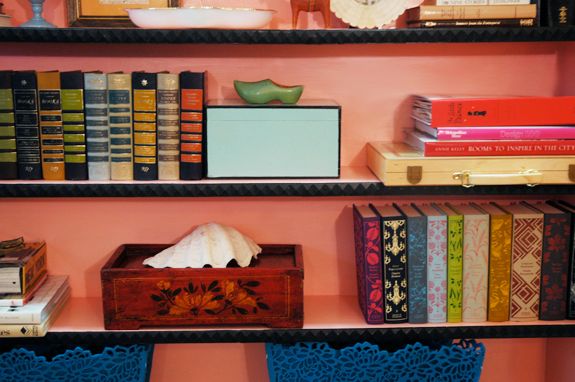 – Also, don't forget fresh flowers! Those $3 bags of corner store carnations and mums really help make regular days feel special. The arrangements literally last weeks if I change the water every couple of days. I usually do tone-on-tone flower mixes in bright colors, but here I used baby pink carnations and yellow mums for Easter.
And that's pretty much it! I'm sure everything will be a little different next week, since it still needs some tweaking, but I think this is about the right mix of books and accessories for me and for the purposes of this shelf.