When I'm styling a bookshelf, I try to keep the tchotckies under control. I like books a lot and think they should be the star of the shelves normally. We're going to have a wall of books in the office (no accessories at all probably) so for the bookshelf under the new sconces in the living room, I'm going to mix things up a little. Probably like half books, half accessories.
Here are some inspiration shots. Let's play a little game of I Spy.
I spy with my little eye books arranged by color, but not in an annoying perfect sort of way. Sort of just stacked and piled by tone. Also, I like all the family photos grouped on the shelf. It's a good idea to keep things that are meant to be examined at eye level.
Kelly Klein via
Habitually Chic
I love the square shape of these shelves. It makes it easier to display larger pieces like the coral and that big turquoise pottery. I would want to check out the contents of these shelves a little closer if I were a visitor here.
It's a good idea to add some bigger pieces to break it up and add a little storage. Try hat boxes, shaker boxes, baskets, lacquered boxes, lidded candy dishes, etc. I also love the yellow on the back of the shelves here.

House Beautiful
This designer left out some of the shelves to make space for bigger artwork and taller accessories. What do you think of this look? I do like some of the bookends here a lot. Pieces like the brass rams are easy to find in thrift stores or on etsy.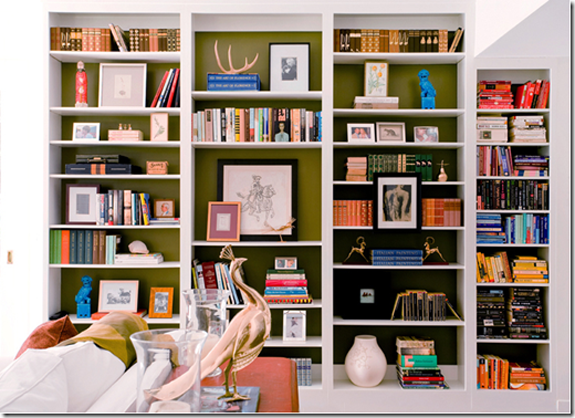 M Designs via La Dolce Vita
These shelves are really pretty. Not many books, and the ones here are covered in kraft paper, which is pretty for a more styled look. I love that ostrich egg and that cage/terrarium thing on the bottom shelf. So cool. Also, pretty obsessed with this color of gray.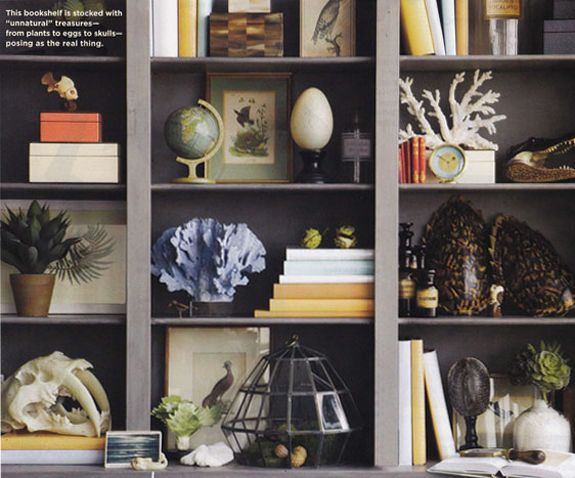 I looove the coziness of this photo. The slouchy couch. The laid back book arrangement. I also love the Staffordshire doggies, the ginger jar and the bullseye mirror. The little checkerboard is also awesome and a nice graphic touch. I've been wanting to incorporate some sort of game board in our house too. Checkerboard or maybe backgammon…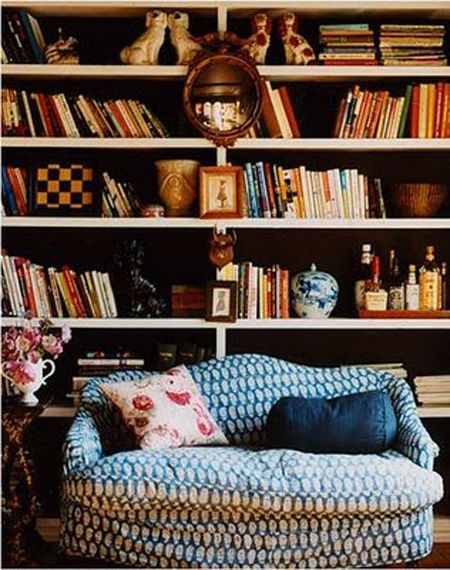 Look! A television!! I like this idea of incorporating a TV into your built-ins.

Lonny
Lots to love on these shelves. I think the designer did a good job of leaving just enough empty space on the shelves (though I would probably prefer more books in the mix here). I think it's easy to overload the shelves and the layers, so be careful there. I think you'd want a maximum of five types of accessories on a single shelf (books count for one type of accessory here).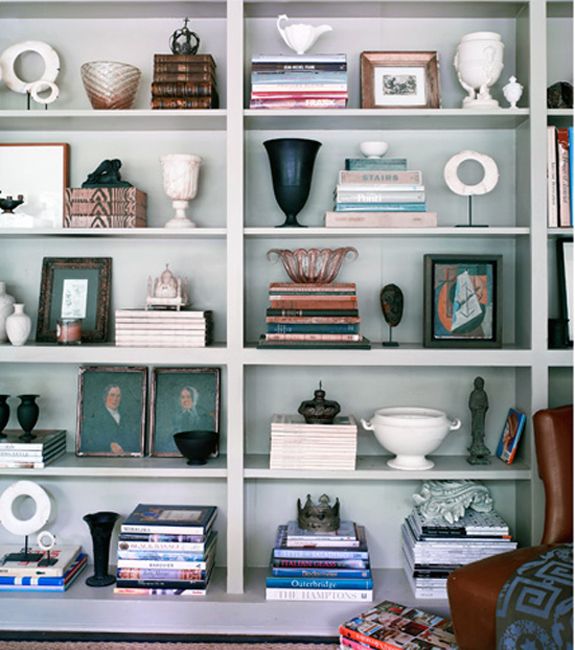 Martensen via Desire to Inspire
These shelves are more crowded, but I think the trick is the colors are all pretty muted. I love that these items all feel very purposeful and collected – like the owner probably has a cool adventure story behind each object.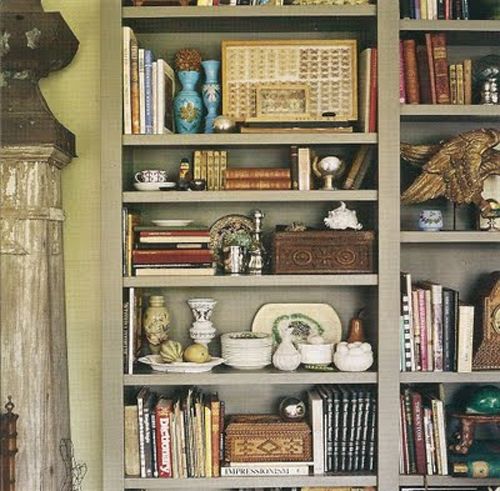 Jaime's (I Suwanee) Bookcase of the Day
Another one with some shelves removed for art. Love that ladder!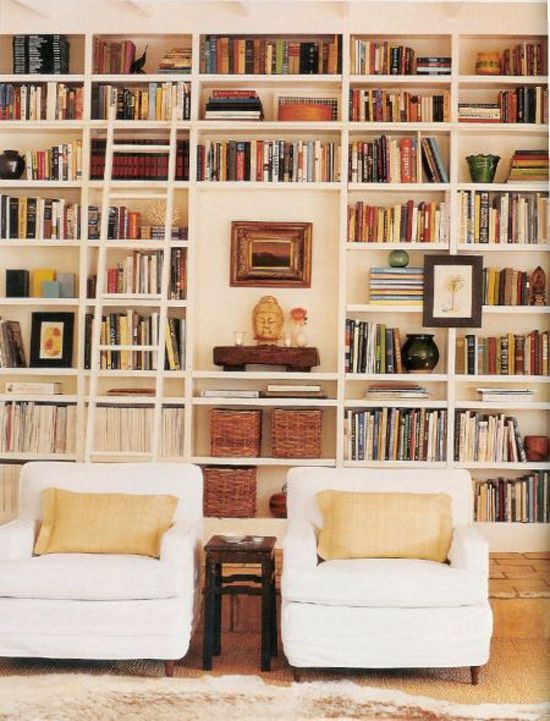 Martha Stewart Living
Fun and quirky for a teenager's room…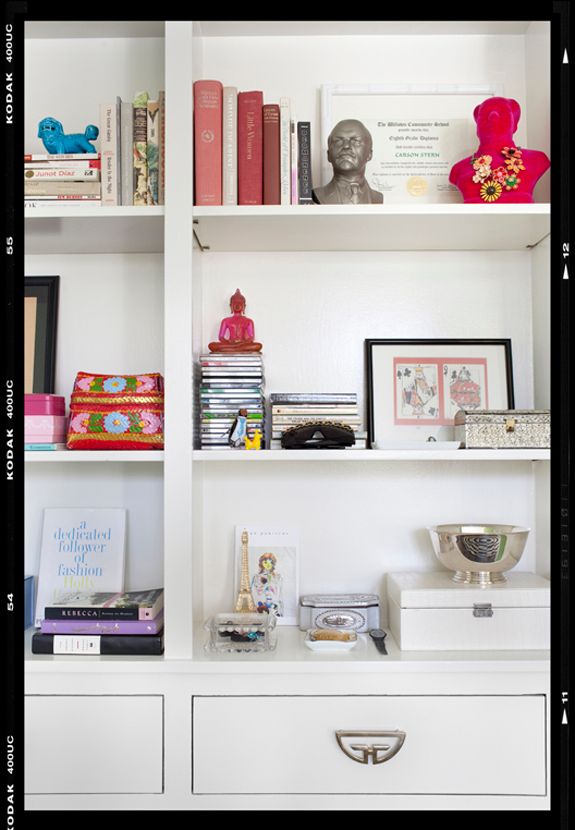 Betsy Burnham via Decor Demon
I love the burl wood frame here. And this is just the right mix of books to accessories for me.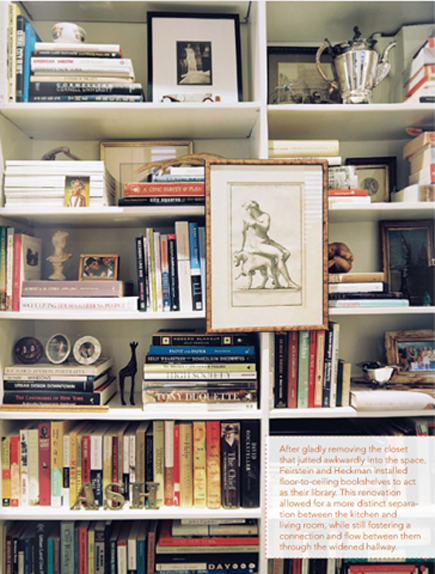 Summer Heckman in Lonny
More square shelves! Galvanized metal here maybe? I like how these are casually stacked. The color groupings flow nicely for a great overall composition.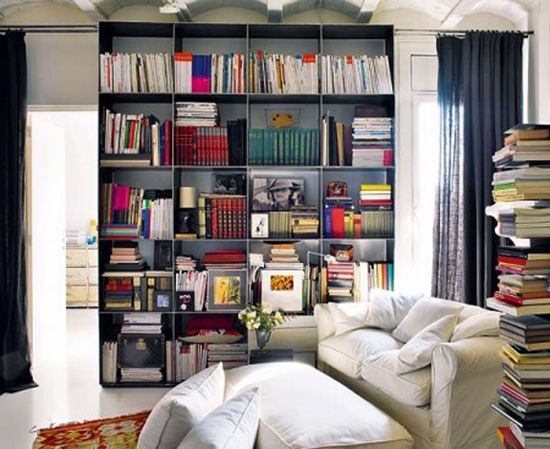 Nuevo Estilo
Colorful and pretty. Love the turquoise vase and the modern artwork up top especially. I also spy a pair of candlesticks, two different types of coral, a beautiful tortoise shell glass vase, a zinc letter and little framed pieces of art on easels.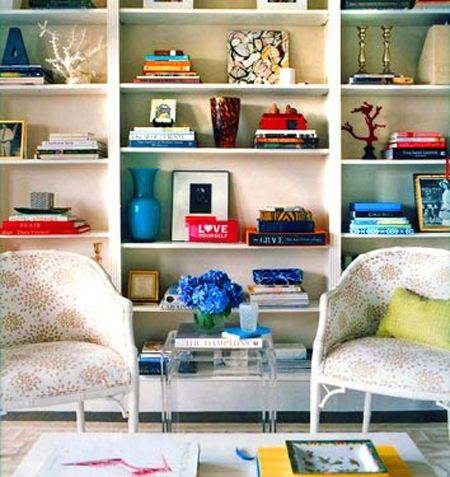 Ashley Mcaleer in Domino
Off to style my shelves which I'll share soon. (P.S. You're going to love the paint job!)
xx