When I posted here a while back about using wallpaper in kitchens, my mom called me and said she wanted to do that in her house and asked me to keep an eye out for a fun pattern. Then I found this Brunschwig and Fils wallpaper and my mom loved it as much as I did.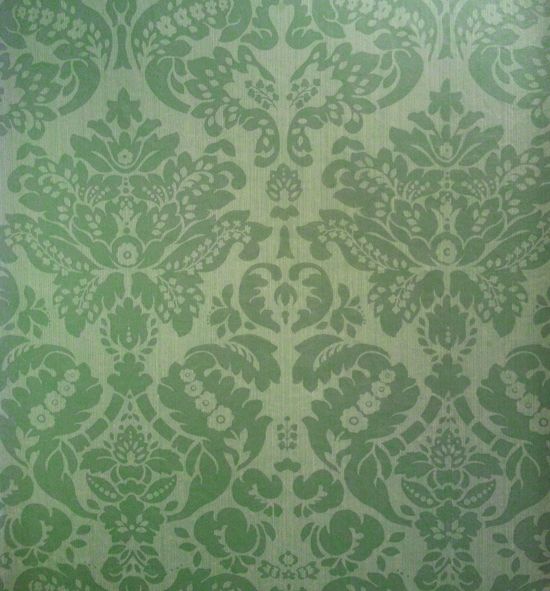 I'm so mad at myself for not taking before pictures! You can see here that my mom had done sort of like a shabby chic crackle paint treatment on this wall a few years ago and she was ready to update.
We hung the wallpaper ourselves using foam mini rollers to quickly spread on the wallpaper paste. Hanging wallpaper is definitely a two person job, but it goes quickly once you get into a groove. We did these two walls in about two hours, start to finish. (even with little ones wanting to assist)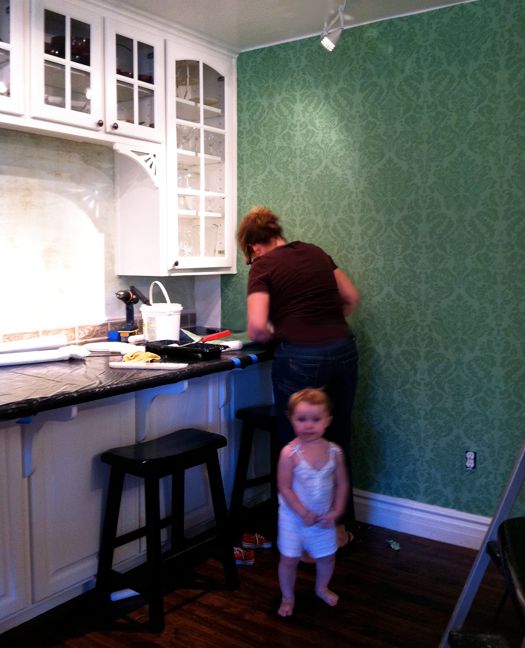 This
12″ brush
is a lifesaver for hanging wallpaper. Once you have started placing a sheet at the top of the wall, use this brush to smooth down the rest of the paper. It really helps to reduce wrinkles and makes the job go really fast.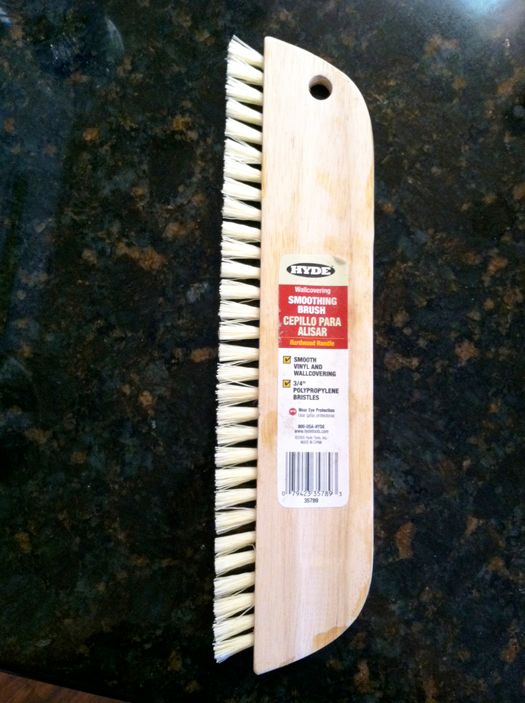 You know how when you finish one project in a room, suddenly you want to redo a few other things? As soon as we had the wallpaper up, my mom wanted to repaint her butcher block island (you can see it to the right in the picture below) and she also was not loving the brown accent tiles in the back splash here.

The island got repainted and we also decided to try painting over the brown tiles.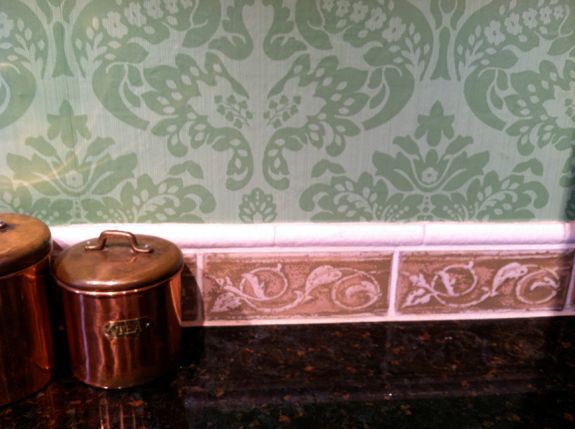 We used an off-white latex paint in high gloss to cover up the brown. This tile is not in the main part of the kitchen – it's just a decorative tile in a lower use place, so we weren't that concerned about durability. I know that there are paints specially formulated for painting over ceramic tile though if you want a more durable solution.
The navy blue color on the island and the white accent tile make all the difference here. Also, it's worth mentioning that we made the mistake of cutting all the wallpaper pieces in the same place on the pattern. We assumed that the wall was even, but it's actually pretty rare for a ceiling to be completely level. We ended up being about half an inch off (as you can see in photos above). It was an easy fix though with a piece of inexpensive molding and a little sample pot of matching green paint (which we also used for touch ups other places).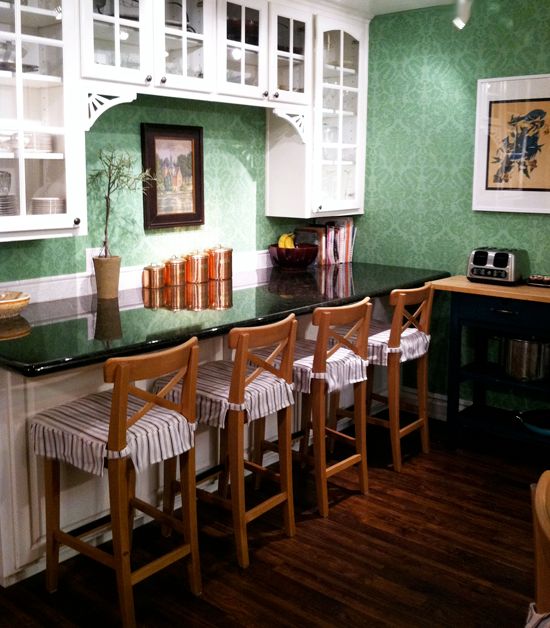 We also picked up six new bar stools from IKEA as part of the revamp. So far we are pretty happy with the
Ingolf stools
and the ticking stripe
chair pads
.
The island was painted in Valspar's Jazz Club, which I think looks great with my mom's granite and the new art we hung (more on that later this week). The main part of the kitchen is mostly white — painted cabinets and a subway tile back splash–so this wallpaper is a really fun departure.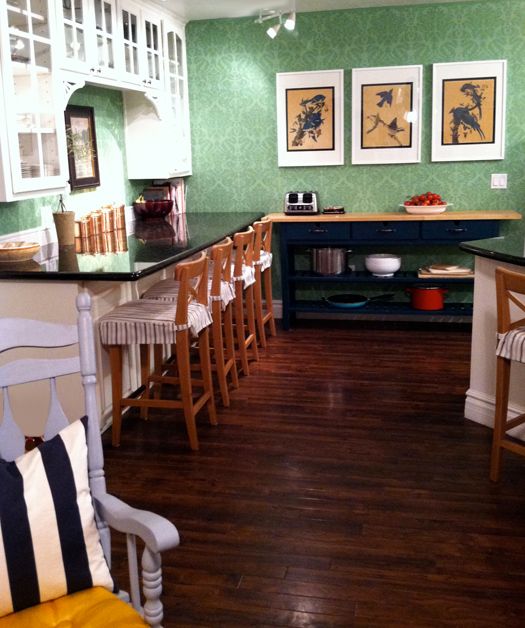 The kitchen is open to
this family room
that we redecorated a year or two ago. One of my favorite little details is a pair of decorative cornices I found at a flea market a while back. We hung the pieces in the wall corners and it sort of frames out the view into the kitchen. There's a matching cornice on the other side too.