Isn't it crazy how so many of us still lament the loss of Domino? That was good stuff.
Remember Rita Konig? She had a really great column in Domino and seemed so cool and chic. Did you know she writes for the Wall Street Journal? And she used to write for the New York Times. While she was there she did this little post about reupholstering her antique sofa. Here's the before shot (btw can you even handle how pretty the frame of this sofa is!?):
And the after: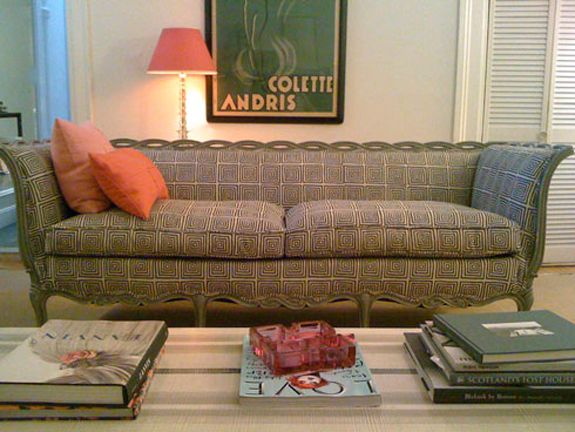 She picked a really cool pattern from Quadrille. I'm wondering how much she still loves this sofa after a few years of seeing the pattern day in, day out? There are probably only a handful of fabric patterns out there that I would be okay with that situation.
Anyway, when she had her sofa recovered, she had the cushions filled with down. Not foam wrapped in down, like so many of us have, but full on down-filled cushions. I've never used that for clients, but I once had an old chair that had a down-filled cushion. It was so comfortable, but I found that I was fluffing the cushion all the time!
I'd love the hear any input you readers might have. I'm going sofa shopping with a client this week so this is a little bit of market research. Anyone with down-filled cushions want to put their two cents in? Do they get smashed all the time? Does that drive you nuts?? It seems like it might just be the most comfortable thing in the world though…
PS Today on Babble…pretty pillows out of cloth napkins