I don't know if my husband can say the same thing, but all this year, I've been planning to move out of our apartment once the one-year lease ended. That's sort of just me. I start to get antsy after about eight months of the same house. It's a problem, I know. I think (hope) that it would be different if we lived in a real house. But apartments feel fluid to me. It's easy for me to feel like it's no big deal to just pick up and move for a change of scenery. There are so many amazing neighborhoods to discover in NYC! Why not try them all!? I feel the same way about furniture. Just about the time I finish a project, I'm ready for something new. Truly, it's a sickness.
This month we signed another year lease on our apartment, which was a little hard for me. I'm feeling that itch to start fresh. I think it's because this year has been reeeaaaaaal busy for me and we still don't feel very settled here. Our place is sort of decorated, but not very well, and it's certainly not "designed." It doesn't flow. It's not very organized.
Since we've decided to stay here in our less-expensive-than-alternative-apartments-I-was-looking-at place, I've got a little extra money each month to make this space work better for us. I can't wait to share with you guys.
First up! A new arrangement for our living room. I'll have to share all the nitty-gritty details later, but our tv broke and is causing us to rethink the seating arrangement. I'm thinking of ditching the gray sofa (that I got for free from Custom Sofa Design, which went under for a good reason) and shuffling things around a bit.
I will keep my Lee English roll arm for another decade or two (seriously people! Invest your decorating dollars in good quality upholstery!!!), but the currant color is not my favorite. It's upholstered in Sunbrella's outdoor velvet in Ivory, which I have been testing and "reviewing" for the past year. All in all, I give it an A-. It is super duper soft for an outdoor fabric. And it wipes down really easy. I have two problems with the fabric: 1) I don't love the creamy beige color (that's a personal problem though) and 2) I wash the cushions like once a week and the fibers are starting to pull out. Again, I sort of feel like this is a personal problem. I feel like I am not caring for the fabric correctly. So, if you're in the market for a kid-friendly velvet I recommend the Sunbrella – just maybe not in the Ivory color and also don't wash it more than every other month and make sure to air dry.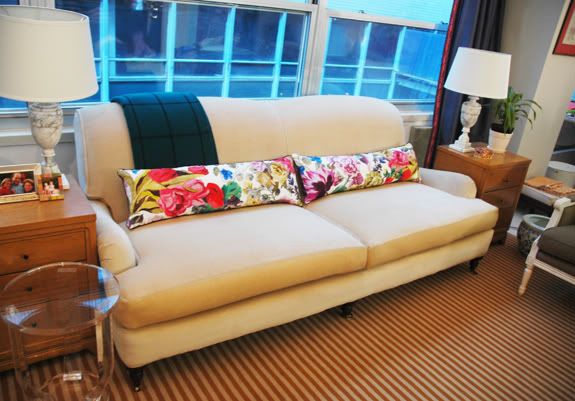 So, I'm realizing I might be a slipcover girl. As much as I try to keep the food and beverages in the dining area, the kids forget almost daily. Evie unbuckles herself from the Stokke and walks around with her PB&J. No bueno for the rug and the upholstery. But I love throwing the cushions of the Lee and the gray sofa in the washer and having brand new couches once a week or before guests come over.
Wow, this post is getting chatty! Anyway, point is, I'm planning to slipcover the Lee in white denim or duck or heavy linen so I can bleach it. I would love something like this with little box pleats (from the Windsor $mith collection)…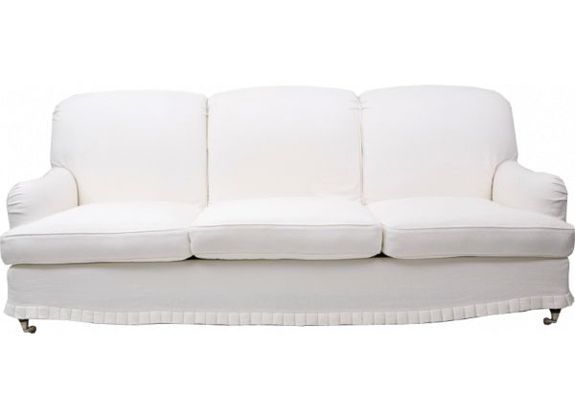 Sort of reminds me of this sofa (anyone know the maker?):
Cole and Sons

Decor8
I think the white slipcover will be obviously a little more casual, and a little girlie. But the plan is to pair it with more masculine elements – like a boxy settee and more modern club chairs. (Which reminds me – anyone interested in a pair of navy bergere chairs? I told you it was a sickness.)
So, have you sewed a slip cover for your sofa before? I've done chairs before, but nothing this big. I'm thinking between the size of my couch, the roll arms and all those little box pleats, this one might be a job for the professionals. What do you think?
Also, anyone else out there with a similar case of Wanderlust? Am I the only one who craves constant change?