Next up in for our room tours is Albertina (who doesn't have a blog or website yet, but has plans to start one this month or soon! Exciting!!). I am loving her fearless living room with the 'just right' pops of color. Thanks for sharing, Albertina!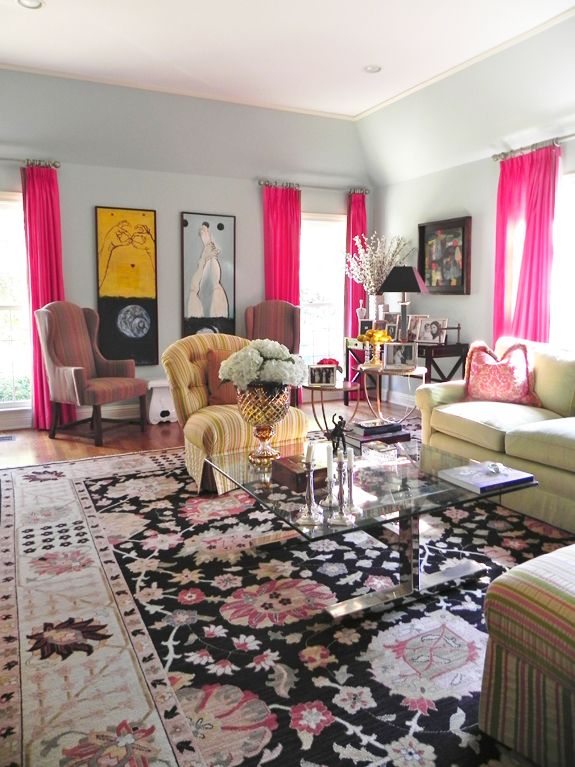 "The color of the walls is Benjamin Moore-Palladian Blue (HC-144)- flat. A lot of people have asked me the name and I love it too. I think the first thing we did in the living room after picking out the wall color was decide on color of the drapes. They had to be something that would go well with a beautiful trim my mom had given me that is about 40 years old and hand-made in Spain. I love how the walls color and curtains + trim look together.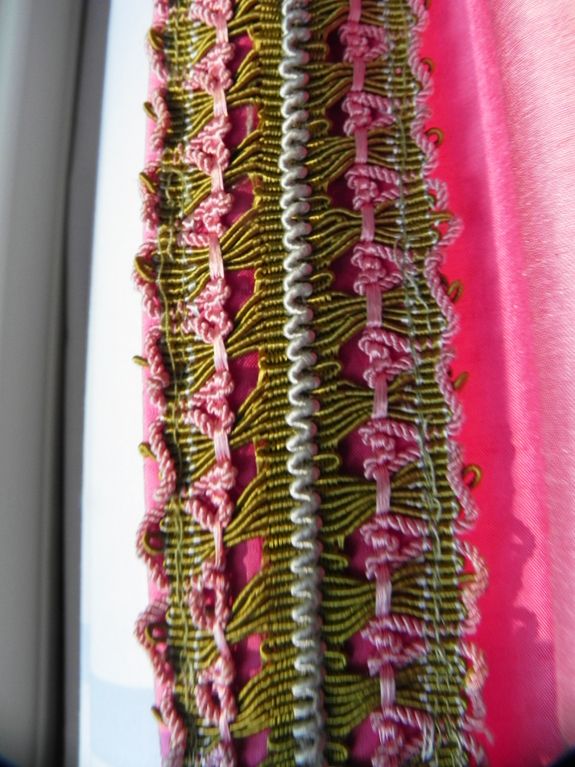 This is the hand made trim. It is a from store in Madrid called Galon. The paradise of trim. If I ever move from this house that trim is coming with me!
"I love having this separate seating area in the living room. At parties I have noticed that it is the men that really use and enjoy these chairs. They are actually part of my dining room set but decided they look better in the living room. The paintings are from a Colombian artist, Gonzalo Fuenmayor. I love his work and this diptych especially. Everyone inquires about it. The fabric on the chairs is from Clarence House and is very cozy. I love sitting here for a one-to-one conversation. Wing Chairs are from Lewis Mittman from about 35 years ago. White Stools are from Cyan Design but they have been discontinued.
"This is my favorite painting. It is by a french artist, Charon. It is a view of the Ligurean coast in Italy. I did not want to center on top of the mantel so I used the Foo Dogs (from Neiman Marcus) to balance it out. The pair of damask chairs are from Calico Corners.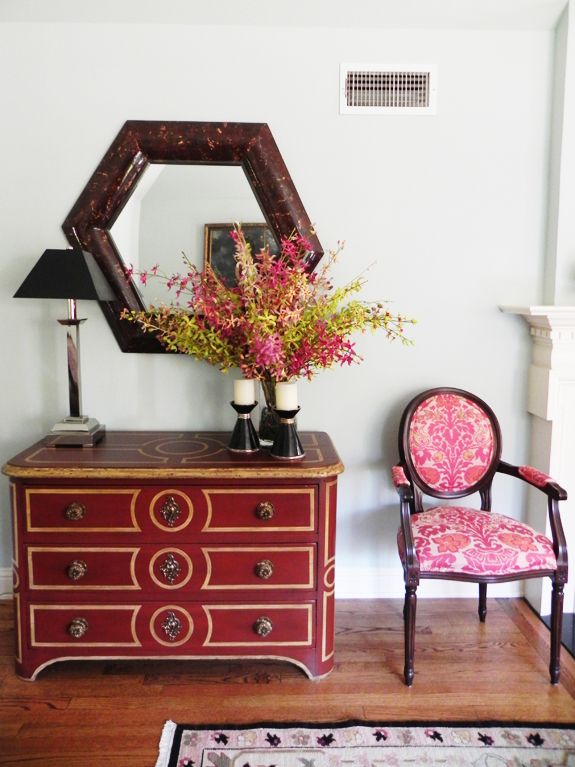 "This dresser is an antique from Yale Burge a present from my mom. I love the color and the knobs. The mirror is coconut shell also from Yale Burge. The lamp is also vintage from Chapman (I don't think this company exists anymore).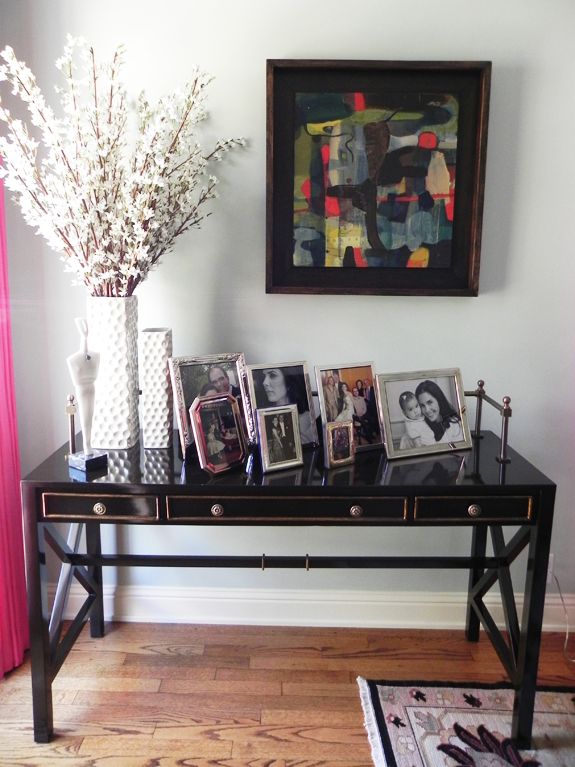 "I put together this corner around the painting. I love this painting for two reasons. One is the painting itself. I love the composition and the fact that the artist, my good friend Alfredo Paris, gave it to me as a present. He went to RISD and is an amazing artist. We went to grade school together and have saved some of his amazing drawings from he was 10 years old in case he would become famous one day! He now lives in China and is studying print making. I can't wait to see his latest (sorry he doesn't have a website). The other thing that I love is the frame. It works so well together with the painting. The desk is from Mecox. I love the black. When I bought it I realized how much I loved the black in the room and decided that I needed more black in the room to balance out all the color. So I looked for a rug with black. I could not believe it when I found the perfect rug with pink, black, and light blue accents. I felt like it was made for my living room!
"These side tables are from Crate and Barrel. The lemons are plastic. I tried having real lemons for a while but it became too much of a hassle to change them so often! The stand they are in is antique from Michael C. Fina. And the little ashtray is from Hermes, it has a cute scottish terrier in the middle.
"This pouf is flanked by two of my dining room chairs. I love the pairing here of Nicole Cohen's painting (from Sketch 42) with the colors of the Clarence House fabric of my dining chairs and the blue candle holders. I have three painting from Nicole Cohen all through the house. I like her bright, abstract style. Here's a link to her etsy store.
"Painted Portraits! Interesting topic. I think so many of them are cheesy, but I love this one. Is it because its of me? or because an amazing Spanish artist, Macarron, painted it? or maybe because I'm used to seeing it all these years? Not sure, but think its pretty cool. I feel like it is a treasure in my home. I love the seriousness of it and how it looks against that blue wall. The side table is from Baker Furniture (Similar here)
Thanks again for sharing, Albertina!! Now, get going on that blog!! ;)