I've always loved seeing images of Ivanka Trump's old apartment floating around the web. Her home was featured in both In Style and House and Garden in 2007. I hunted down the old In Style magazine on eBay that had some of my favorite shots from her place. It's so fun to see the details!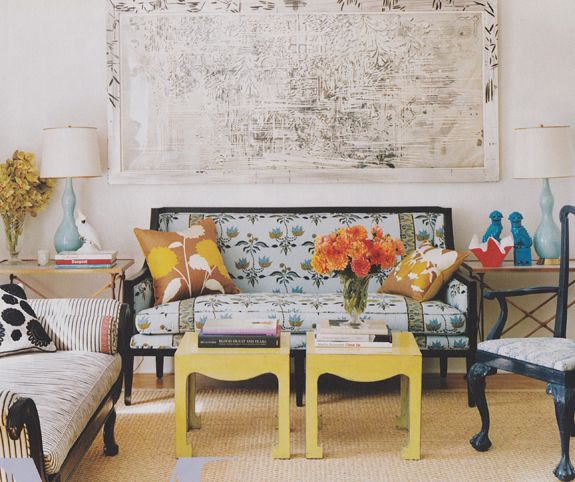 I wish there were more photos of this stripey Empire sofa on the left here. And I'm loving the small gold detail on the lamp shade! Gorgeous.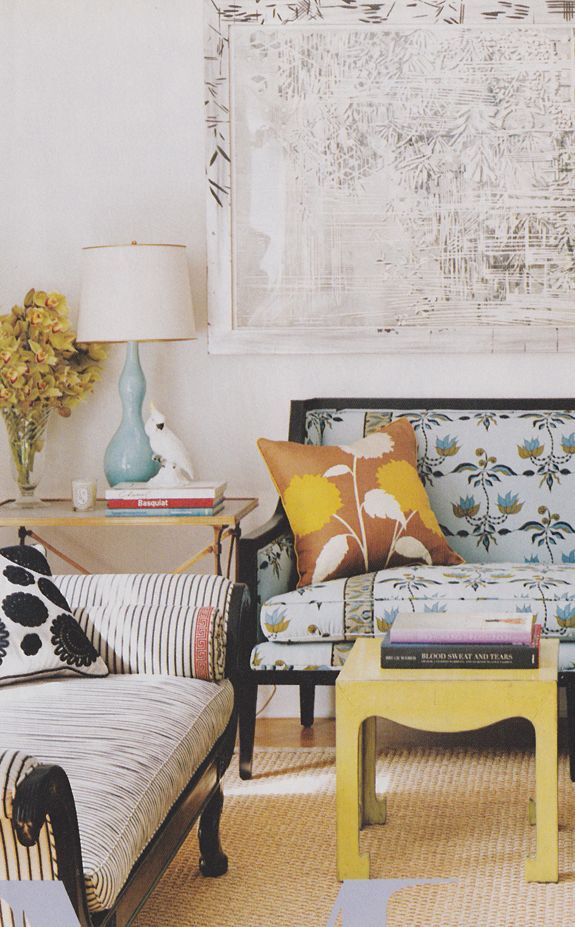 Ivanka says in the article that she decorated the apartment by herself, but I remembered reading in the House and Garden issue that (one of my very favorite decorators) Emma Jane Pilkington did it? Either way, the apartment is beautiful. Classic, but young.
If Ivanka didn't use a decorator, she sure has an amazing eye for details. Look at the design on her brushed silk curtain panels.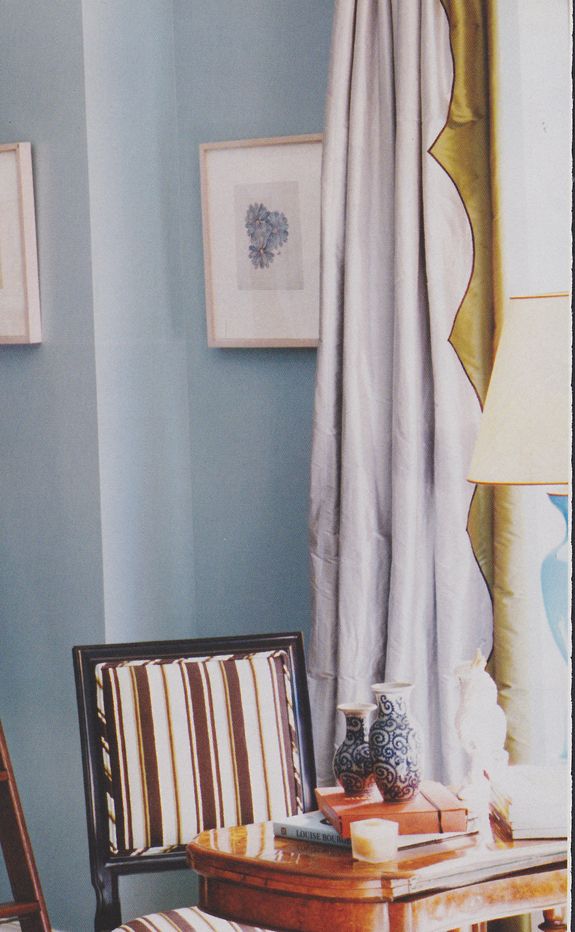 I love this room with its library ladder. The blue is so pretty. I've seen other photos of the space and the color is actually much deeper and brighter in reality.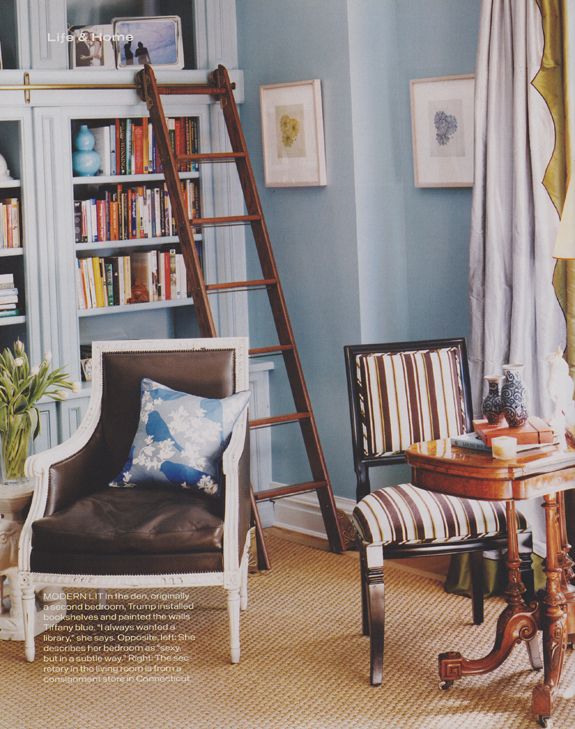 I love the punches of red in each room. Red is such a great, energizing color when used in tempered doses.
The bedroom looks pretty chill from this shot…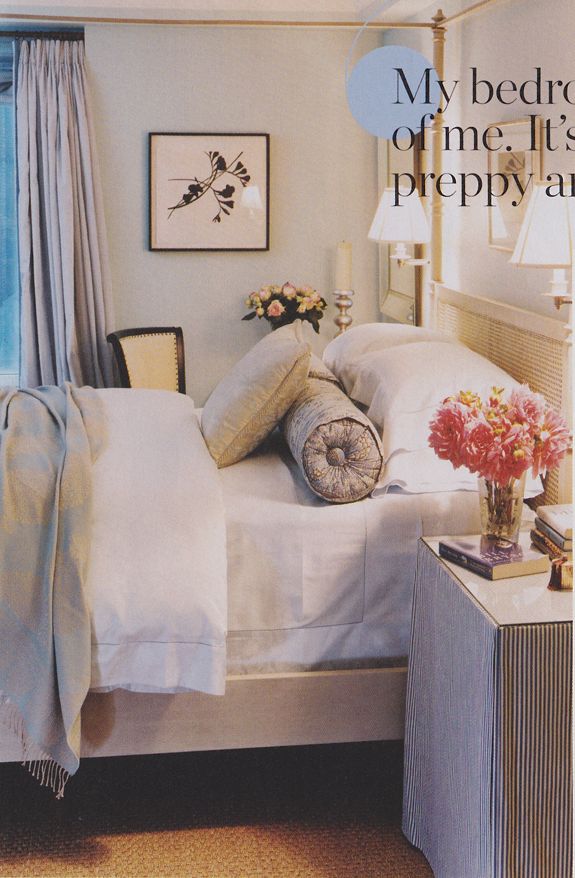 But then, BAM! Check out the dresser/mirror/lamp combo down at the foot of the bed. SO GOOD!!
(House and Garden)
Her dining room in In Style was pretty enough. I liked the turquoise chandelier, though it seemed small in this shot…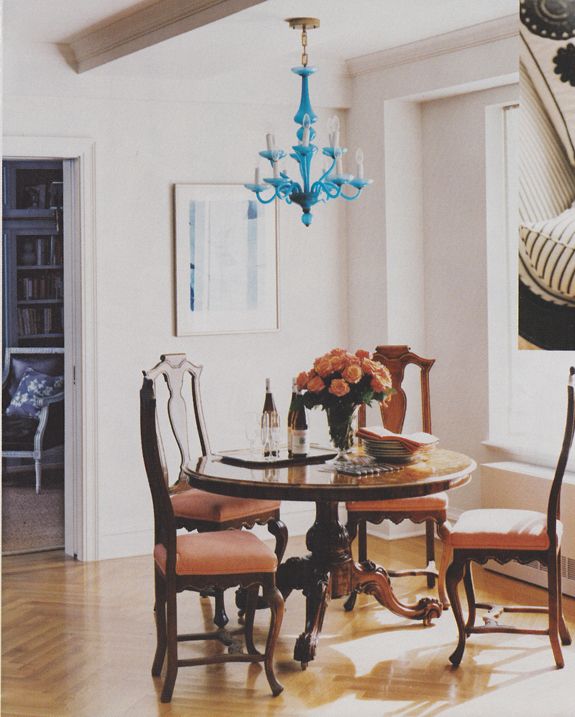 But this version of her dining room is A-mazing. The chandelier fits right from this angle and the scale of the art is much better here. She framed a vintage Hermes scarf.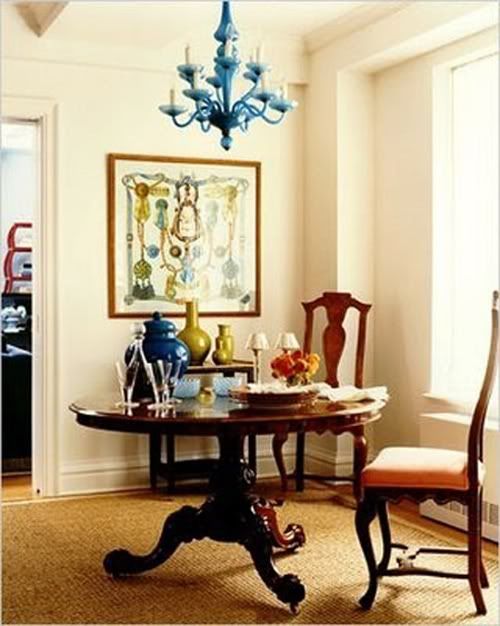 House and Garden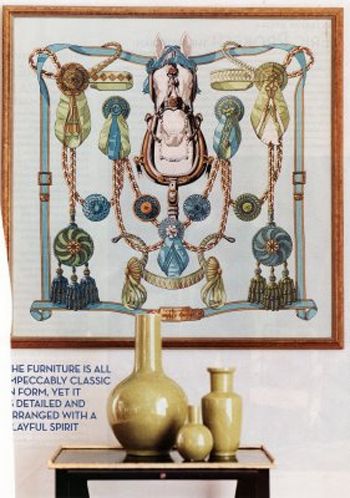 (via Flickr, not sure of the original source)
Here's a close up of that super crazy-good lamp with the red lacquered shade. Maybe she has a pair of these lamps and one still lives in the bedroom? And check out the ribbon on the bottom of that armless sofa. Home girl loves her trims. Almost every upholstered piece in the house is trimmed out which makes me think Emma Jane definitely helped decorate.
Ivanka's home pulls off my favorite look so very well – traditional furniture, modern art, quirky accessories, great lamps. It's a fool-proof recipe, really. I mean, look at this Napoleon – great colors and what a conversation starter! And how beautiful are those crystal candle sticks? Such a lovely little collection.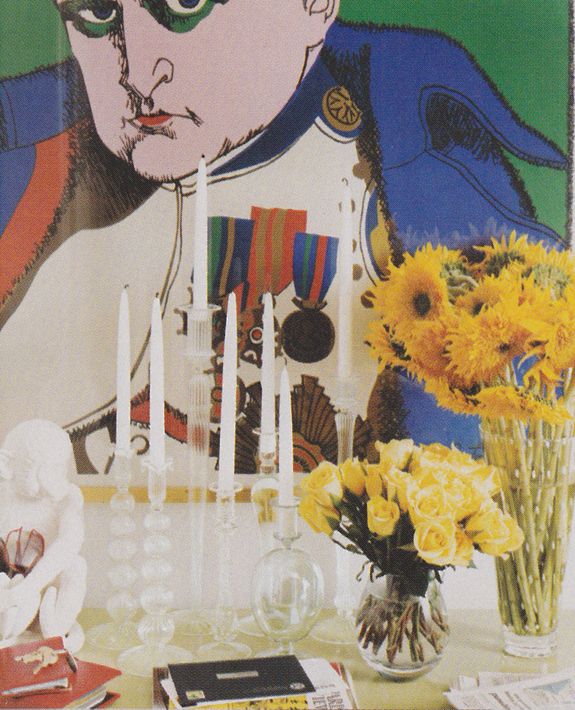 Don't you agree this apartment will still look fresh 20 years from now? It's a favorite for sure.