My super-stylish assistant Colleen, who blogs at There Comes A Yes, is the queen of sourcing. She always knows where to find the pieces I have in my head for our client projects. I'm so excited that she's going to join us on LGN for copy cat design posts! Email us if you have an inspiration room you'd like to see interpreted.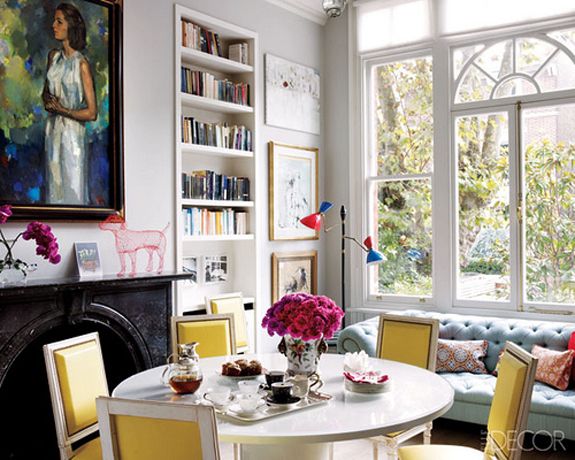 This dining room from Elle Decor is one of the first I saved to my computer many moons ago, so I was quite excited when Jenny asked me to break it down for you today!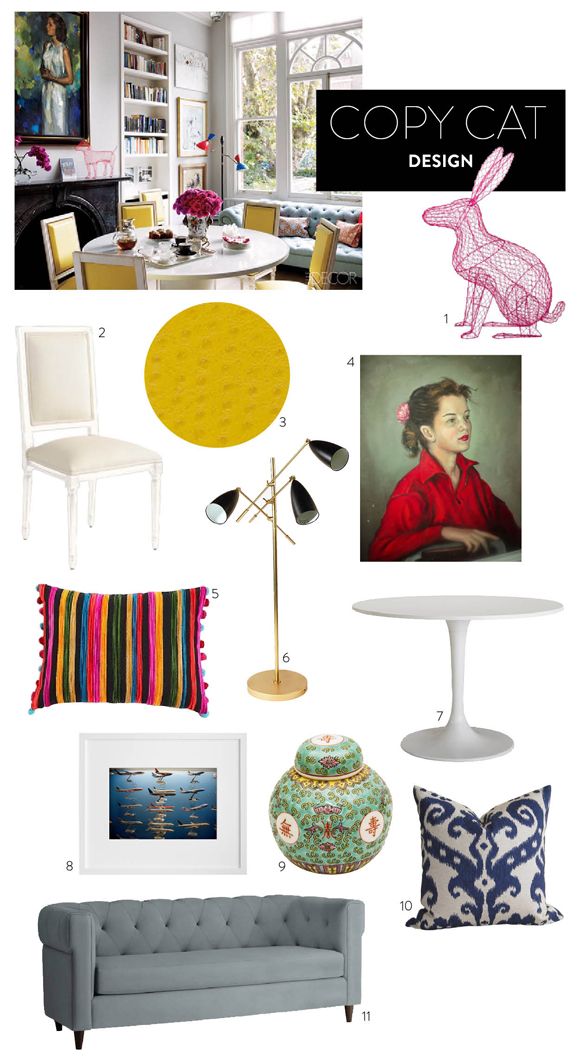 This little guy adds just enough humor to a mantel. At 2 feet tall, he's a statement too!
Classic Louis chair.
Faux ostrich for the dining chairs. Love a leather or faux skin for easy clean up.
Ebay is a great source for vintage oil paintings, especially quirky portraits like this one. Really dig the shade of her shirt and lipstick too!
Urban is so on the ball with trendy and inexpensive home accessories. Perfect way to add a little extra color to your room.
The inspiration room has quite a bit of traditional going on, but breaks up the look with the MCM lamp. It can be hard to find a stylish brass floor lamp new, and under $1000, so I really like this version.
Oh the ubiquitous Docksta. For the price point, its stylings are excellent, and it's not too tiny either at 48 inches wide. Definitely prefer it paired with traditional chairs.
Always love a mix of mediums–buy three or four photos and hang them vertically for a similar look.
Pearl River is an excellent source for little doodads if you need to style your room in a hurry.
Another fun pillow to add to the mix. I'm not the only throw pillow addict, right?
This sofa is an excellent option if you're striking out on Craigslist for the real deal. Plus, it's a lot more apartment-friendly than most chesterfields!