I am a long-time supporter of L&S Fabrics. I love that I can check in with their site often and they always have something new for me! The lovely team at L&S is giving away $100 to one of you readers who Likes their Facebook page this week (contest ends Sunday March 18 at midnight).
I thought I'd share some of my favorites from their site. I get asked a lot how to put together patterns. I hate to take the fun out of it, but in case you are the type of person that freezes up when they are mixing patterns, here's my very generic formula: one big pattern, one small, one stripe, one geometric, one floral/organic, plus or minus one animal print. But, rules are made to be broken, so just have fun with it and stick with what really speaks to you.
Let's play-decorate!
I see these prints in a teenager's bedroom. Busy ikat on the headboard, check ikat on the drapes, b/w polkadot on a chair and the radio print on a big bolster on the bed (pink piping!)…
These fabrics would be gorgeous in a living room. Maybe a jute rug and a chocolate velvet sofa? The citrusy suzani floral would be pillows on the sofa. Robin's egg blue walls would play off the blue damask for curtains. Slipper chairs in the chevron, an ottoman in the greek key…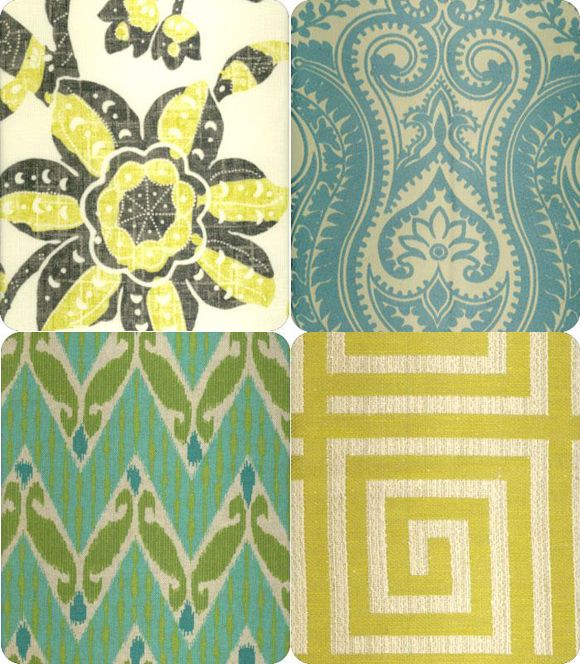 Such a pretty combo for a master bedroom, right? Crate and Barrel's Collette bed, the floral as three big euro shams. The small greenish print as a big bolster or lumbar. The gray geometric would be so pretty on a foot of the bed bench or a sitting chair. And the navy stripe would be amazing as balloon shades or big, full curtains…
I like putting some sophisticated colors in a nursery. How about the deep red geometric on a mis-matched ottoman in front of a neutral slipcovered glider? The walls upholstered in the mini-stripe (it's outdoor fabric! You could hose that stuff down!). A window seat cushion in the wide stripe and a roman shade with black out lining for the floral (with lavender pom-pom trim?)…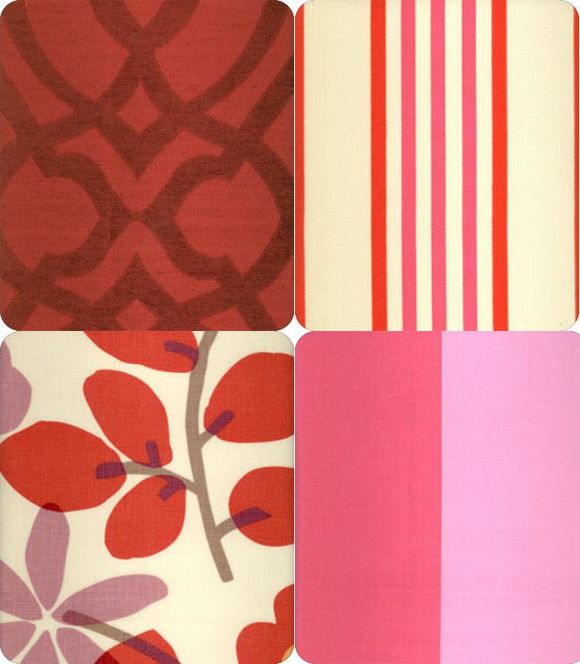 If you want to use a colorful rug or if you're painting a lot of the casegoods pieces in a room, try using mostly neutrals in your fabrics to get some balance. What about a turquoise overdyed persian rug in this dining room? A white marble oval Saarinen table with four wooden frame Louis style chairs upholstered in the big black/white ikat? On the other side of the table, an armless settee upholstered in small gray/lavender ikat. Billowy curtains in the embroidered taupe chain pattern. Plum lacquer on a vintage sideboard with persimmon lamps with brass shades. The palm print on a pair of black painted arm chairs, flanking the window…
Do you have any tips for mixing patterns? How fearless are you with your fabrics? I'd love to hear about it in the comments section. But don't forget, if you want to enter the give away, click on over and 'like' the
L&S Facebook page
. They'd love to hear how you'd spend the $100 gift card!