I was turning my zipcar in a couple weeks ago and drove past Goodwill, where I saw these Italian beauties gleaming in the window. I almost didn't pull over because I thought for sure they'd be crazy expensive.
I pulled over and illegally double parked for just long enough to peek in the window at the price tag. $19.99 each! I basically threw two twenties at the register and loaded the chairs right into my zipcar. It was one of the fastest furniture transactions I've ever made here!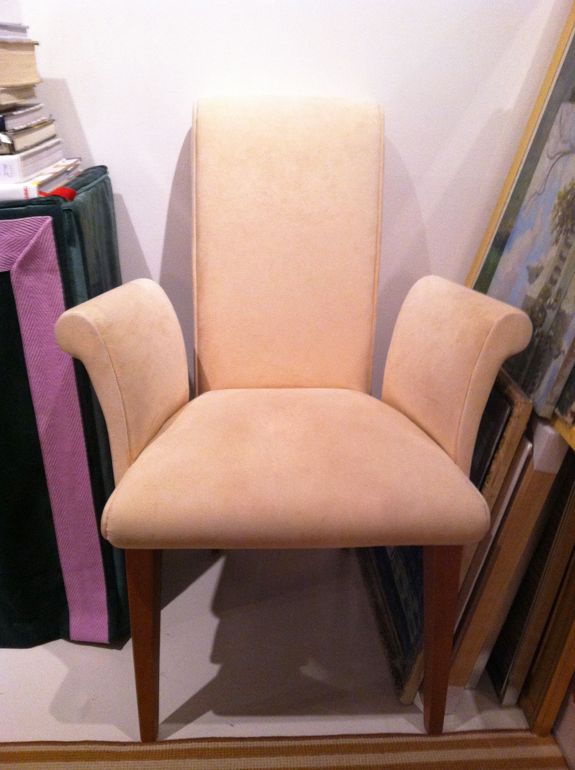 I love how the arm panels are sort of detached. I'm totally digging the shape and they're actually really comfortable to sit in. The fabric was a nasty old suede, so I already dropped them off with my upholsterer (I tried to take them apart myself but I could tell the end cap panels weren't going to look right and I needed the help of a professional!). I found this really beautiful deep spearmint wool fabric that I think will be perfect for the chairs. Sort of unexpected texture. And the color (not captured here correctly) was just insane. I've never seen a shade like it. I'm so excited for these chairs to get back this week!
Here are some other fabrics I picked up at the same store (I'm having trouble finding the store's name – it was somewhere in the fabric district a block or two north of B&J's). That orange dot number has the loveliest shine and weight to it! It's the nicest polkadot I've ever come across. I think it will be cute for a pillow or two somewhere in my house.
One of the fun things about shopping in the garment district is fabric will have fashion house names on the tags. The floral below is a Milly print and I think the orange dot was Kate Spade. Maybe Tory Burch. Recently I found the coolest Oscar de la Renta ikat and amazing DVF silk at Mood. Does anyone know if the fashion designers have fabric mills make the material special for their collection or do they source already manufactured fabric for their lines? I always mean to ask the Mood people that.
PS I posted some of my favorite fabric resources in the city
HERE
(don't forget to check out the comments section for readers' favorite local fabric stores as well. Feel free to add yours!)