Now that we're probably moving to a bigger space this summer (I'll share news as soon I can – don't want to jinx it!), I'm having a hard time passing up furniture deals. How could I not get these cute little chairs last weekend? They were only $175 for the pair and are surprisingly comfortable for their petite size. Wouldn't these be perfect bedroom chairs?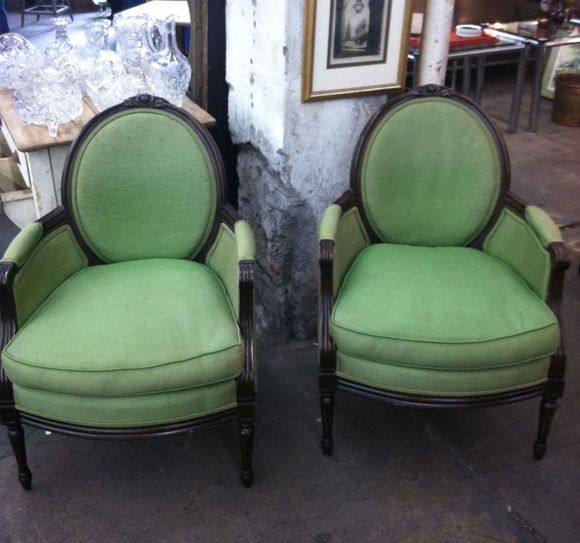 The green fabric is super old and all snagged, so the chairs need new upholstery STAT. I'm thinking I'd like to do a more neutral fabric so I can go with something fun for our windows (
maybe yellow drapes like these?
).
I'm not usually into using a different fabric on chair backs, but I might like it here.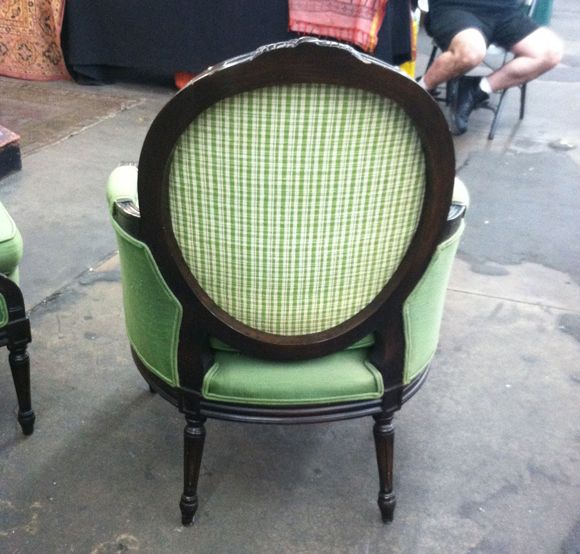 The first row below shows some paint options I'm considering for the frames. Links are listed below the round up. There's a mix of high and low fabrics here. For the pricier Kelly Wearstler fabrics, always try checking eBay or etsy for yardages before paying the huge mark up online. These fabrics also often turn up at fabric outlets and in upholsterer's remnant bins.
Do you have any gray or black/white patterns you're really loving these days?
Paint colors:
1) Benjamin Moore Gunmetal 2) BM Gray Pinstripe 3) BM Silvery Milk 4) Sherwin-Williams Dorian Gray
Fabrics