I think, more than any other item in a home, you can tell the most about a person by the art they hang on their walls. No other home item tells more of a story, which is both cool and a little bit stressful. What to buy? How can I find something that reflects me and my story? How can I be original?
Have I ever told you that I usually don't buy art for clients? It's like buying lingerie for a friend or something – it's just too personal. Or at least I think it should be.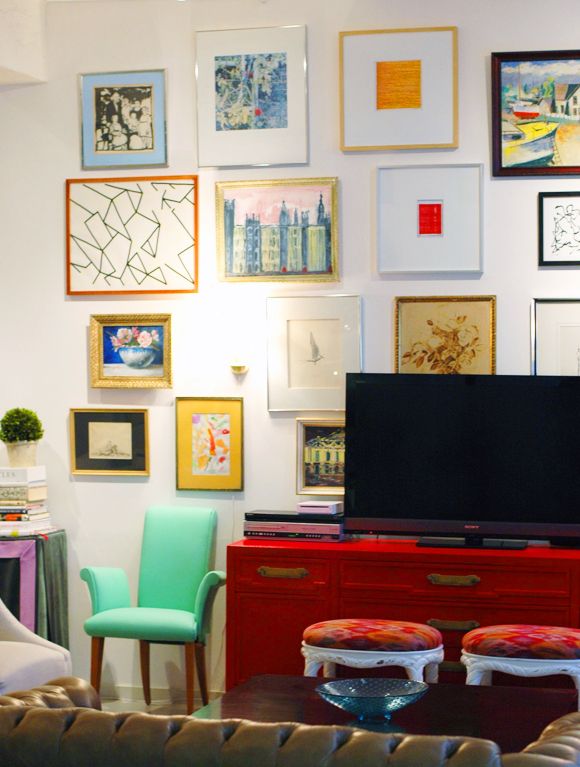 In the past, when I'm shopping for my home, I sort of let art come to me. I buy pieces that really resonate with me when I come across them at flea markets, auctions, and online. I think that is a good method, but sometimes you just need a certain color or subject matter for a room, and I think there's been a real hole in the art market there. Especially for people on a budget.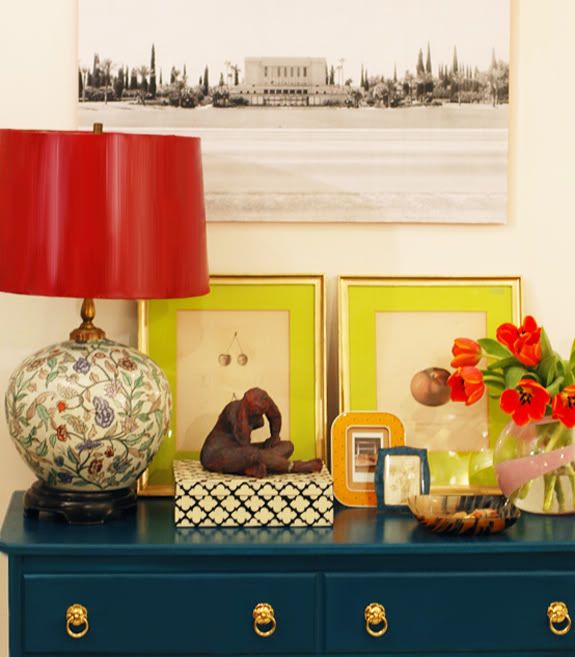 Art.com approached me and a few other design bloggers about coming to San Francisco to preview their new site redesign and total rebranding. I saw a sneak peek of the site before agreeing to come, and it really looks great. But more importantly, it really works great. So I decided to do a little experiment.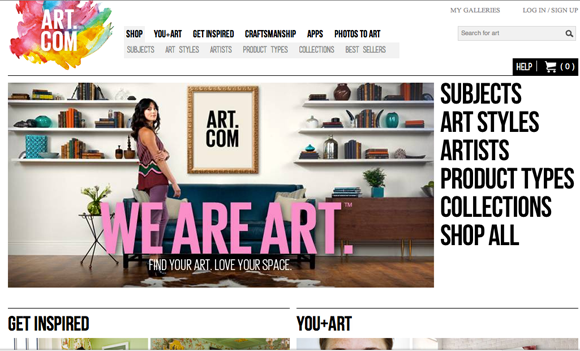 I quickly flew through some of the loose image files on my desktop that haven't been archived yet, and I pulled aside the first 10 images that featured exciting art. Then I gave myself 10 minutes for each image to find a print or original work on art.com with a similar vibe. I thought I'd be able to find something at least close for about half of images.
I couldn't believe that in less than half an hour total, I found something close to or exactly the same as the inspiration art for every single image! And, truthfully, I would be ecstatic to hang any of these prints in my home.
Want to see what I found?
1) I really love this bedroom and I think the ethereal art is just perfect for the spot. I thought it might be tricky to find something similar – wrong!! There are so many great, dreamy black and white botanical photographs on the site, but the photograph below stood out to me the most. It reminds me of one of Michael's and my favorite films Ugetsu. Wouldn't this be great in our black bedroom?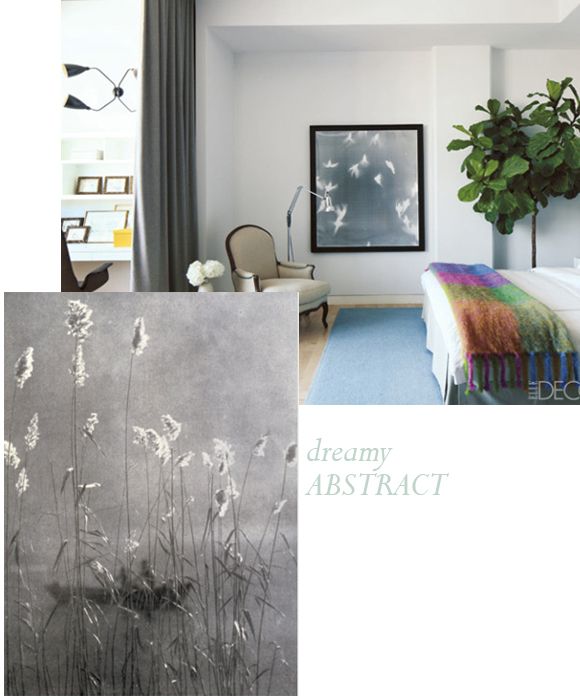 Wild Flowers Growing on the Banks of a Pond
// Elle Decor bedroom
Search terms I used: Photography, Black and White, Botanical
Find similar
here
(I really love
this one
!)
2) Finding the right color or texture in a piece of art is especially important when putting together a gallery-style art wall. A little bit of red is just what this wall needed.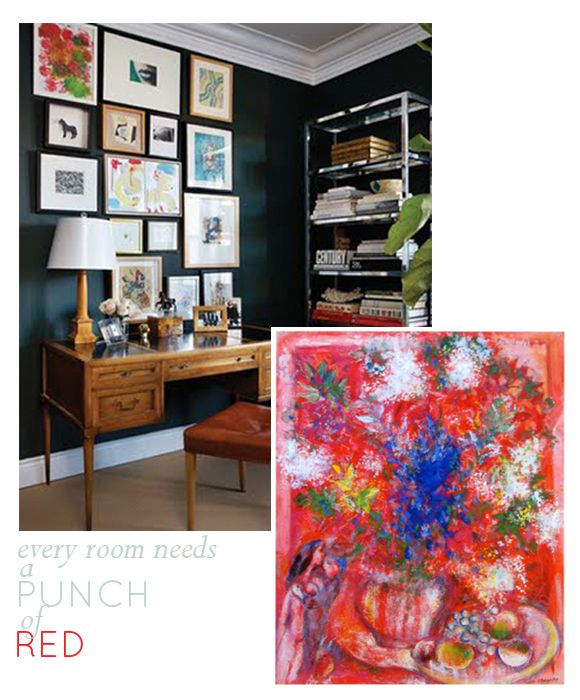 The Red Flowers
(Marc Chagall) // Green Office (House and Home)
Search terms I used: Red, Botanical, Floral, Fine Art
Find similar
here
3) Isn't this a fantastic bedroom? I love this space. And the art is amazing, of course. I thought for sure I couldn't find anything similar to the modern, edgy, oversized floral photographs. I think the French artist I found (he actually silk screens on the photographs!), is a great style match.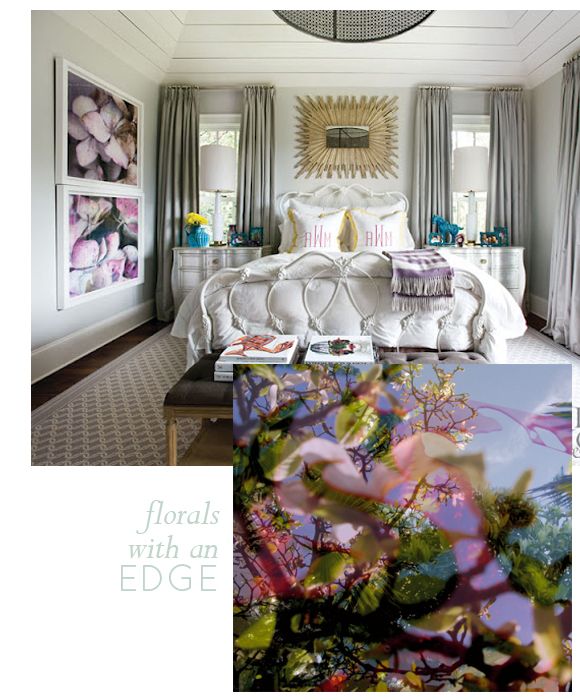 Vegetaux 11, 2008
(
Nicolas Le Bauan Benic
) // Atlanta Homes and Lifestyle Mag
Search terms I used: Botanical, Fine Art, Photography
Find similar
here
4) This Miles Redd room is a great study in colors and lines. I also love Mark Rothko's paintings and I'm so glad art.com had a very similar print available for us! The peachy coral and icy blue colors are just perfect together.
Untitled, 1969
(Mark Rothko) // Miles Redd
Search terms I used: Rothko, Abstract, Fine Art
Find similar
here
5) No one does pop art like Warhol, and I love that art.com has such a great selection of Warhol prints available (I actually got one for the girls room – more on that later). Thinking about adding this heart print to the mix as well. Maybe for their bathroom??
Hearts, c. 19790-1984
(Andy Warhol) // Lonny
Search terms I used: Hearts, Warhol
Find similar
here
6) Just like every other person in the world, I'm fascinated by the strange, dark story of the Kennedy family. I love this print, another by Andy Warhol. It adds just enough edge to this lovely, but pretty traditional space.
Jackie, c. 1964 (Solitary)
(Andy Warhol) // Design unknown
Search terms I used: Jackie, Warhol
Find similar
here
7) We all know neon has been hot the past couple years especially, but I love when the bright colors are used in more classical forms – like with figurative abstracts here. I am so, so in love with the Diana Ong print below. Maybe a birthday present for myself this fall? :)

Abstract #8 (Diana Ong) // Christine D'Ornano in Elle Decor
Search terms I used: Figurative, Abstract, Yellow, Fine Art
Find similar here
8) I've mentioned before that I'm a little sensitive to the overuse of portraits. To me, the portrait should be either really, really lovely or really cheeky and not-so-serious. This Sargent print is both I think. I'd frame it in something very modern to make it even less serious.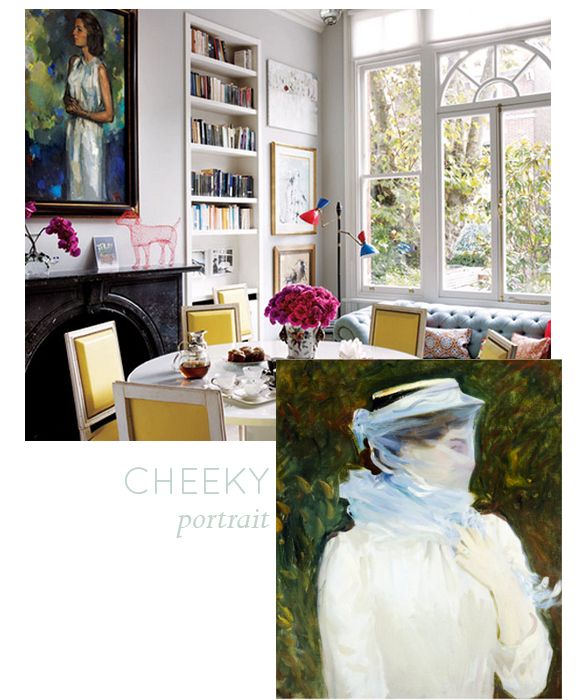 Sally Fairchild, C. 1890
(John Singer Sargent) // Elle Decor Christine D'Ornano home
Search terms I used: Fine Art, Figurative, Women
Find similar
here
9) I love all of the Josef Albers squares studies. The colors! But if you're a bit color shy, try painting your walls a neutral color, and keeping all your other furnishings in the same quiet color family. Then throw in a large print like this one and the space will come alive, but still look grounded and mature.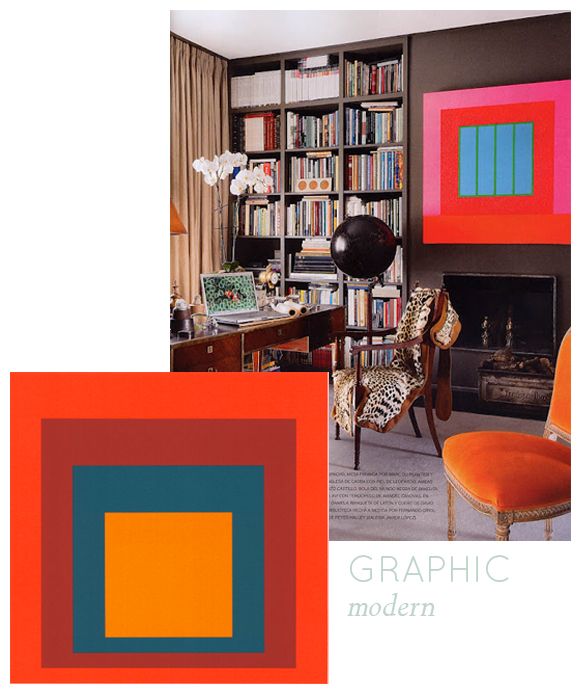 Study for Homage to the Square, c. 1954
(Josef Albers) // Elle Decor
Search terms I used: Albers, abstract squares and rectangles
Find similar
here
10) Here's another print I plan to order for our house! My Grace is super into stars and constellations – I think she'd love this poster in her room. Isn't the blue background fantastic? There's a black option too.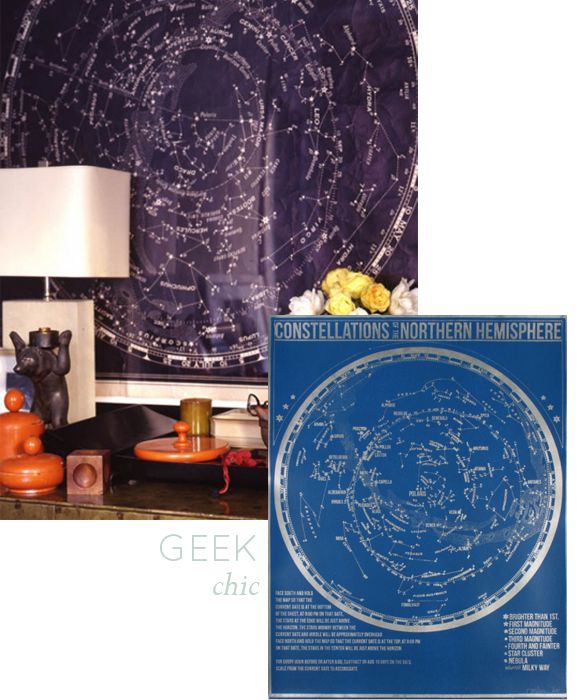 Constellations of the Northern Hemisphere // Thomas O'Brien design
Search terms I used: Constellations
Find similar here (maps!!)

11) I was so excited to learn that Art.com owns many original works and edition collections. I'm absolutely aching, dying for this vintage Chagall print. Gah!
La Bible – Lang
(Marc Chagall) // Kristin Buckingham for Elle Decor
Search terms I used: Abstract, Figurative, 20th Century
Find similar
here
I had so much fun with that little game. You guys should totally try it. It's a simple way to find art that speaks to you, that you can actually hope to afford!
Any prints/pieces you've been eyeing? Do you have an inspiration piece of art you'd like me to find a match for? I'm up for the challenge! Bring it.
And of course, a HUGE thank you to art.com for partnering with me on this post series. I can't wait to share more (stay tuned for a really cute project I'm working on now!)
PS This tv spot gave me goosebumps when it was unveiled at the conference…