Brought to you by the Brita Bottle For Kids: Help teach your kids to learn to love water. Learn more.
I'm a little nuts about dinner time.
I really want my kids to have an appreciation for good food and all the time and effort that goes into creating a meal. And I want them to be happy to eat healthy foods and be willing to drink plenty of water (less sugary juice!). And I also really want them to have good table manners. My mom was so, so good about doing family dinner right consistently when I young, and I think that was a huge factor in strengthening our family bond.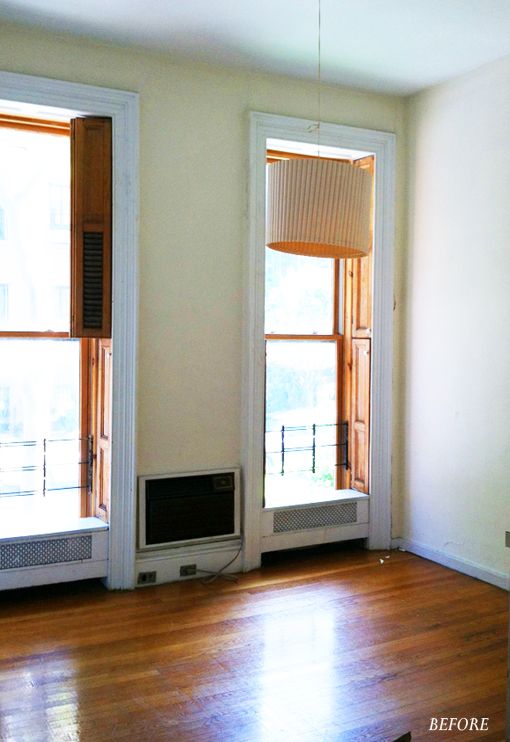 Shot of the dining room from move in day. Ugh, that light fixture is so, so bad in real life.
Even though my life is crazier than I'd like it to be, I've been trying to make dinner time more special at home. I feel like now we are in a real home and my girls are getting older. It's time to be more consistant. I've noticed a couple of things are really helping. I have the girls help with meal prep, but I also have them help set the table. They absolutely love doing this – folding the napkins, making the silverware perfectly line up, filling water glasses – and I think teaching kids how to properly set a table signals the importance of the thing. The more effort they put into the meal and the table, the more excited my girls are to try the food.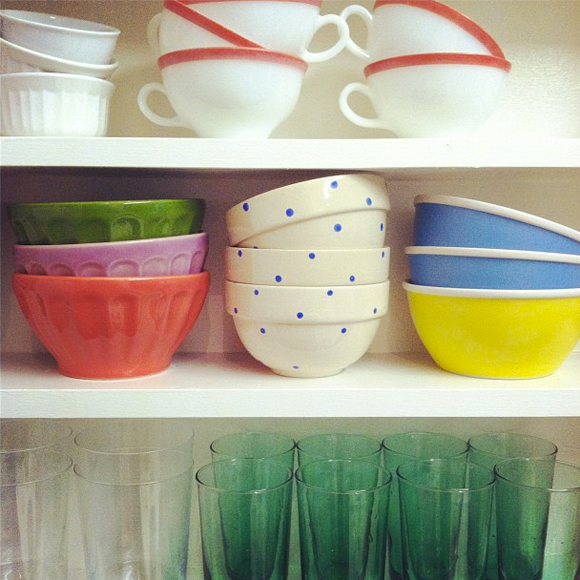 The other thing we do is have the girls use the adult dinnerware and flatware for dinner time meals. I'm so happy that they have learned to use a knife and fork and they are very careful with the fragile plates and glasses. Not that we haven't had a few accidents, but I think it's really important for kids to be given responsibilities. They will always rise to the occasion! Want to see your kid drink a full glass of water at dinner? Put it in a goblet and I guarantee it will happen! :) (These might help too)
For breakfast and lunch though we do use fun dishes. We have personalized striped plates from La Plates that are the girls' favorites, and also the Food Face guy from Fish's Eddy is adorable. I also picked up the polkadot bowls above in the dollar aisle at target. I love them and wish I would have bought a dozen more! They're the perfect size. We also have some colorful IKEA plastic flatware, but I wouldn't mind investing in a set of playful stainless flatware like the striped ones here from PBK or the bamboo set.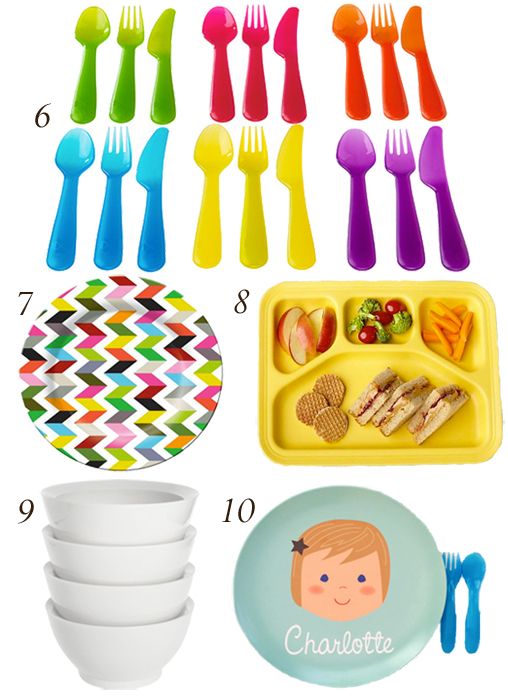 What do you guys do for your kids? Am I the only crazy one that makes their three year old eat off porcelain on principal? I guess we all pick our battles :)