Dear Readers,
I'm at my parent's house in Arizona. And I always get a little wordy with my posts when I'm out here in the country. All this fresh air clears my head, I think. :)
I've been keeping up this site for a long time – going on six whole years! (how did that happen?!) I've been a blog reader for even longer, and by now, I've learned a bit as both a producer and a consumer of creative sites. It feels like there's a change in the wind lately, doesn't it?
All of us content-producers that work for ourselves, we're all trying to figure out our place in this fast-paced, idea-sharing world – with its Pinterests and Tumblrs and Instagrams (and now Vines!). I know it's weird to be on the content-consumer end of things right now as well. Blogging is such a new, and kind of weird media. Martha Stewart Living Omnimedia, we are not (which I think is part of the charm and allure of blogging). As we all know, most of the time, blogs are run by one person, out of their home, who happens to have a passion, who wants to share it, and who hopes to eventually make a fair wage for their labors. We're still trying to figure out the money bit. What's appropriate when we genuinely feel that our readers are our friends, and when we're often talking about deeply personal things? You readers are front and center as we muddle through all of this and more: sponsorship opportunities, attending and feeling the need to report on conferences about blogging, then also dealing with difficult "real life" situations as well as just the small-scale highs and lows of everyday life. And then of course (!), producing content all the while.
I've tried to be better about this in recent years, but back in the day I felt like I had to have a project *done* before I shared it here. It wasn't like that in the very beginning though. When I first started blogging, I was openly sharing everything I had on my mind – big and small. When no one's reading your site (and with no mean-spirited comments occasionally coming in) there's nothing to be self-conscious of. When I started getting more traffic (and some of those less-fun comments), I noticed myself holding back a little more. Also, some of the real joy of sharing was starting to leave, which is a bummer for me to think about.
Well, I've decided to let go a little, to get back to basics. And I'm determined to reclaim some of that lost joy, especially now that my interiors business is doing well and other media opportunities are opening up to me. I know now that I'm not blogging as a means to an end. It's the blogging itself that I think I love the most. So, how to make that more sustainable and more fun?
As a blog reader, I know that I love getting to know the writer behind the blog as much as I love their great content. I love the small projects just as much as (sometimes even more than) the grandiose room reveals. I like feeling like I'm along for the ride as the blogger lets me get inside his/her head. This is where bloggers can differentiate themselves from the other social media outlets. We can dig deeper into the story. We can share more.
And what's the point if we're not? Might as well stick with Instagram.
I know this is a rather wordy, out-of-left-field post, and I don't mean to pull back the curtain in an unsavory way. And I don't write it to make any sort of announcements about the future of this site. But, as my site redesign and url change (!!!) are finally reaching completion (and after several lengthy, late-night conversations with other bloggers at Alt), I've come to the realization that if I want to keep going with LGN, I need to be willing to share more. All with less worry for what other people think of my projects and my style, because that is the whole point. I named this site Little Green Notebook after an idea journal I used to keep in my bag (before the days of iPhones) that would record all my notes to self. Project ideas with sketches, shopping lists, clothes and shoes to save up for, stores to look up online, dreams and goals. So, all that to say, I hope you keep joining me here during the week as I get back to sharing more of these things again. I love, love, love having you. I imagine you all as my girlfriends that I feel comfortable enough to have over even when my house is a bit messy. Thanks for being so chill, thoughtful, respectful and cool to me as I put my ideas and my personal life out there. :)
I did this little project last week. As I snapped the photos I thought, no one is going to care about a piece of ribbon on a lampshade in an unfinished room. But those sound like the worries of Old Jenny, don't they? And New Jenny digs simple, achievable projects and shares. So, onward with the post!
Before I went to Alt, I was changing the girls' sheets, dreaming/lamenting about how much I want to do to their room this year (like new bedding – stat!). In the spirit of making small, but impactful changes, I decided there needed to be more red in the room. I ran down to the lamp graveyard (as Michael calls it) in the basement and grabbed this tomato red ginger jar lamp (seen here previously). I wish I had a black paper shade on hand, but this cheapy white one from Target worked too. (It is so hard to pass up those dang uno shades at Target. They are SO inexpensive and accessible! I just wish they would make more shades that work with harps. Same with IKEA's shades).
Table lamps in kids rooms can look a little stuffy, you know? So one of my favorite tricks is to glue colorful trim to the top and bottom lips of the shade. Instant whimsy! (…I hate myself a little bit for saying that word). Like with almost every textile project I do, I used MagnaTac here (but Fabritac works equally well). Also, I used to recommend grosgrain for trimming out shades, but I think something with more stretch and give works best with shades that have any kind of sloped sides. This orange and violet vintage woven trim I picked up from SAS in Phoenix worked perfectly. Just roll under and glue the last inch where the ends meet to prevent fraying.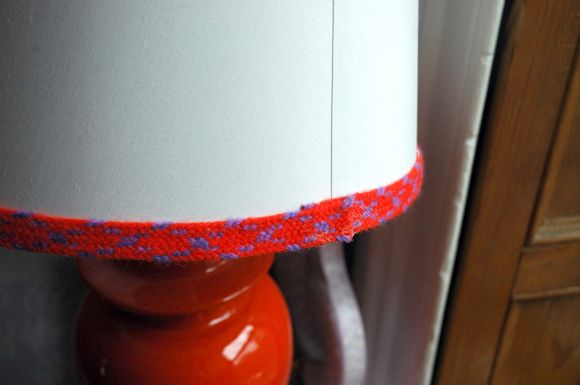 Five minutes of gluing later, I had some tangy, bright persimmon red in the room, and I felt better about the space. And (to bring it all back home) isn't that what it's all about? Small and simple steps. :)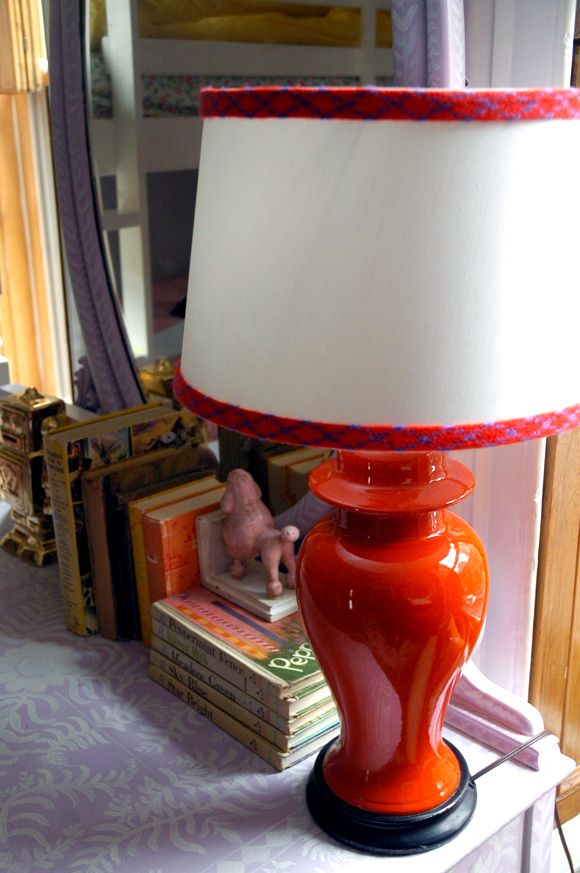 Thanks again for sticking around, friends. Here's to six more years of DIY adventures on this little piece of the interwebs.
xo, Jenny