Our bookshelves are almost doing being built! I'm so excited to get those installed in about a week! It's got me thinking a lot about furniture in the library. I think I want to float a daybed in front of the bookshelves. Something in a really modern shape would be pretty, I think. I love the simple shape of this one, and that slow curve on the headrest area is pretty much perfection. The legs are sort of weird though, right? A little too utilitarian?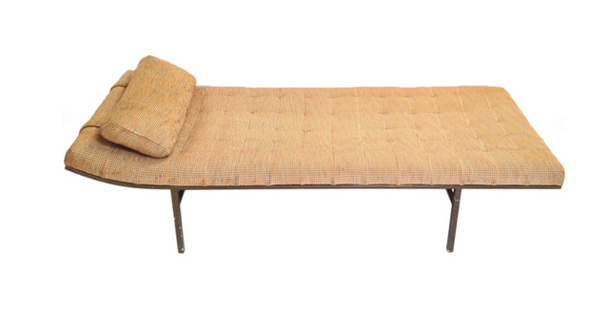 These legs are closer to what I'd want to do. This shot was from an eBay listing and above is from 1st Dibs.
I'd love to do a button detail on the cushion, but I think there would need to be at least one bolster to make it not feel like an army cot.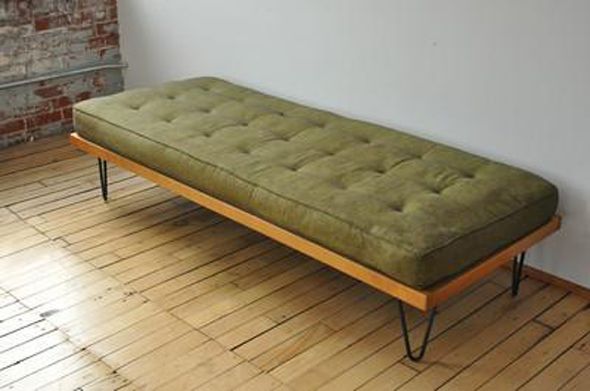 I've been looking online for something vintage, but I might try making one if nothing great pops up. It would be nice to get to choose the dimensions of the daybed too so it can fit in the library nicely. All the other pieces in the room are upholstered in solid color fabric and the drapes are probably going to be solid too, so I'm thinking the pillows and the daybed cushion would be a great place to have fun with pattern.
I can't stop thinking about how GORGEOUS this chintz looks on this Le Corbusier chair I saw on
Sara Kate's instagram
. The contrast is so cool and fresh to me! Plus, that fabric is unreal. So, so pretty.
Reminds me of
this office chair
. Unexpected fabrics on classic furniture shapes are really fun.
This little chair makes my heart sing. I would love something like this in one of the girls rooms. :)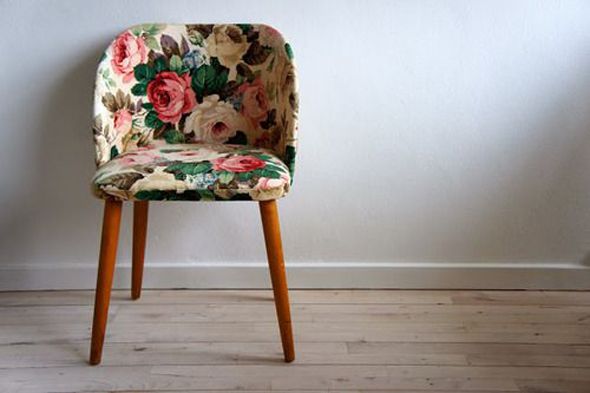 It would be easy to do just the bolster(s) of the daybed in a floral instead, if the whole cushion would be floral overload. So much of the battle though is finding the right pattern! I have some options in my fabric stash, but I kind of want something new and different. What's your favorite floral pattern right now?