Nothing helps me get my house in shape faster than when guests are headed over! We are going to be traveling a lot in June and the thought of my house sitters seeing my majorly blah bathroom was such a bummer! Something had to be done, and fast.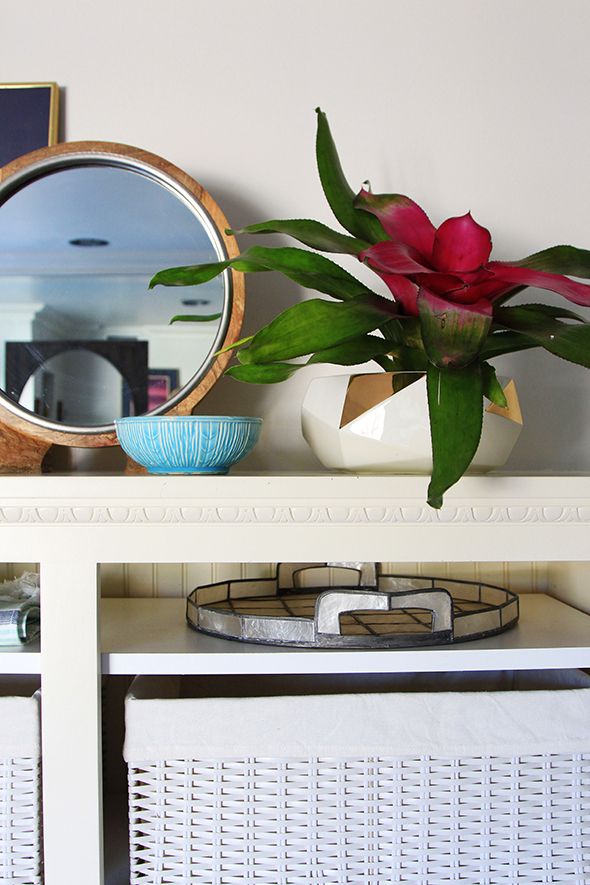 Happily, Target Style invited me to shop their new spring collection from Threshold and Nate Berkus. Hello, dream job! They believe (and so do I!) that with just five more minutes of attention and the addition of just a few cool, what I call top-layer pieces, even the most boring space can become a showpiece room that you'll be so excited to share with your guests!
Remember what my bathroom looked like when we moved in? Baby blue walls, weird vanity, dark baskets that shed everywhere, and absolutely nowhere to hang towels!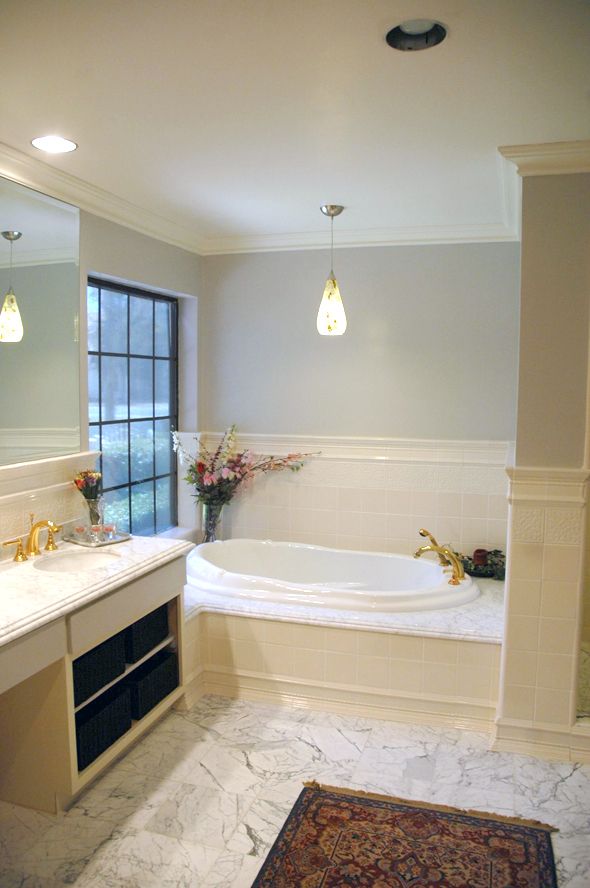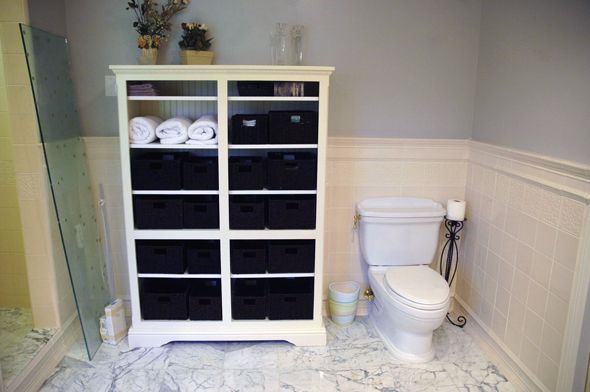 I painted the walls Benjamin Moore's Classic Gray (one of my very favorite colors!) and changed out the baskets, which helped for sure. But I knew the room could look a million times better and be much more functional with a top layer of cool accessories.
I planted a really hardy succulent in this great Nate Berkus bowl for on top of the shelving. Every room needs a little bit of greenery – even a bathroom! That oversized basket that we're using as a laundry hamper is new from Nate Berkus, too.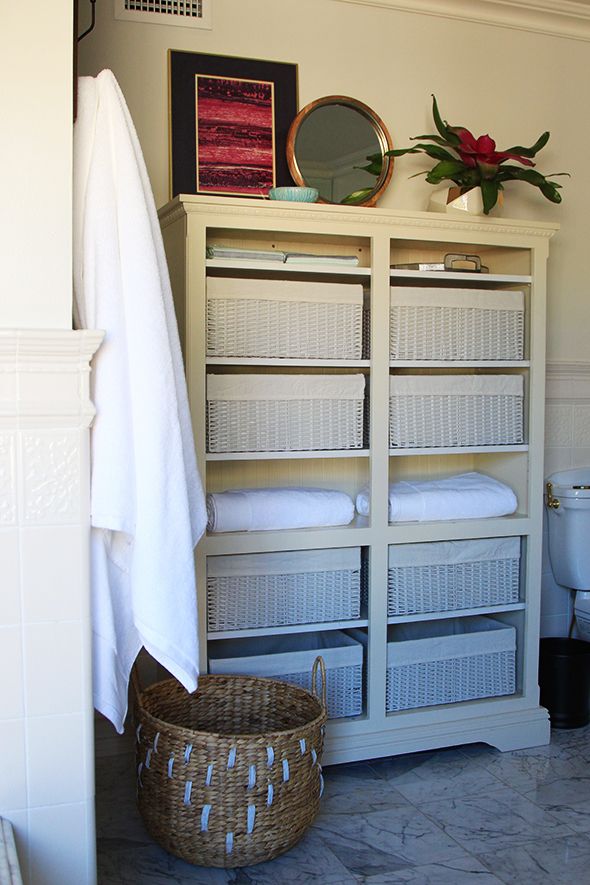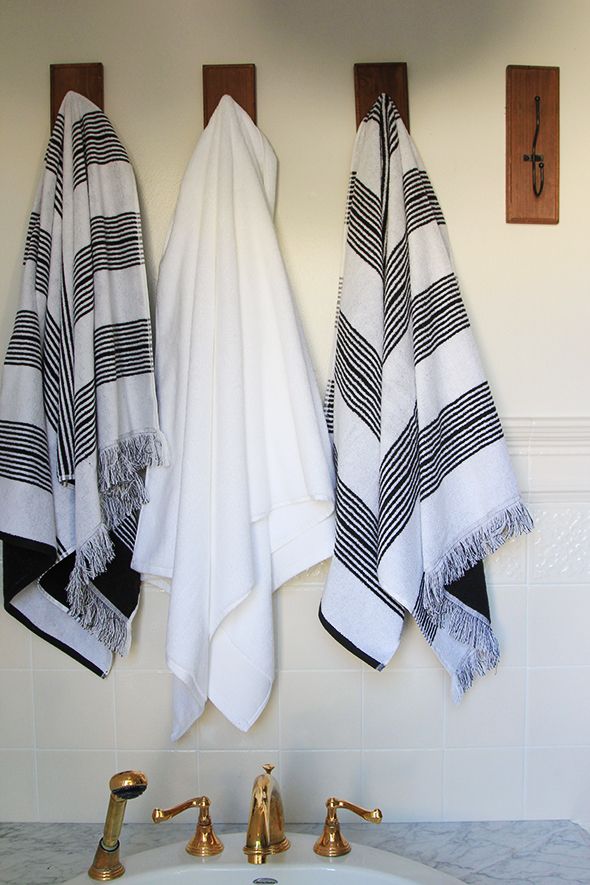 I eventually want to replace the mosaic pendant light with something more permanent, but for now I hung a white paper lantern right over the top of the old pendant.
One of my very favorite additions to the bathroom was hanging these Threshold mirrors on top of my outdated sheet glass mirror. It only took a minute to put these up with a few large-sized picture hanging strips. I love the dimension they add!
There are some fabulous gold and brass toned accessories at Target right now that I just couldn't resist, especially this
glass jewelry box
. I love to have a pretty place to stash my wedding rings at night before bed. And that
pencil holder
works perfectly as a make-up brush organizer!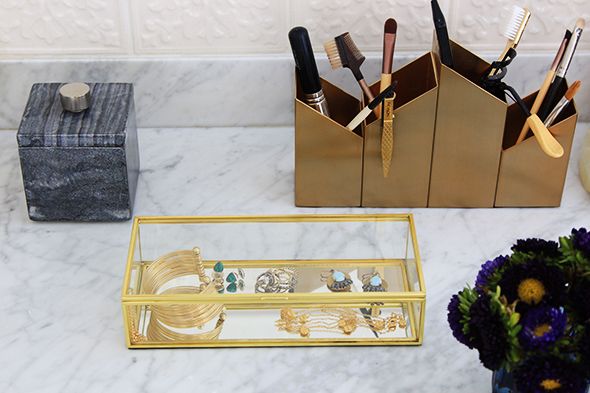 And how sweet is the
gold shaving mirror
? I'm obsessed with the design – it is solid and looks so beautiful in person!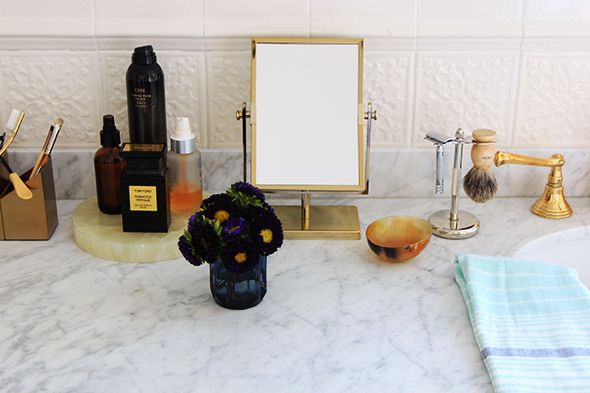 But the pink stool! She's the hero of my additions! I can't tell you how much joy that little stool brings me. I tucked her in to that little vanity spot and it was like the whole room came alive, just like that! And suddenly I've gone from embarrassed to excited to show this room to our house guests! It's so much better, right?
This post is brought to you by Target Style. Shop the new Home collection in stores and online.