School started for my big girls this week. It felt like such a sneak attack! I'm having to play catch up a little this weekend to get organized and settled on the home front so we're all set for the new schedule.
This year's been amazingly challenging. Not in a hard or sad way. I feel so happy/blessed/lucky and oddly peaceful considering all the balls I'm juggling now. But sometimes during the particularly stressful weeks, the feeling of being overwhelmed will start to creep up on me and I've had to do everything I can to squash the emotion before it can start to take shape and kill my motivation. Isn't motivation a funny mind game? One second I can be laying in bed in the morning, checking my emails on my phone, getting overwhelmed a little, and then proceed to make a million excuses for myself on why I should just call it in for the day (not a great feeling for 6 am). And then I'll check Instagram and see something beautiful and new to me, or someone doing what they do well, with heart and passion, and suddenly I'm ready to hop out of bed and tackle my to do list with a vengeance!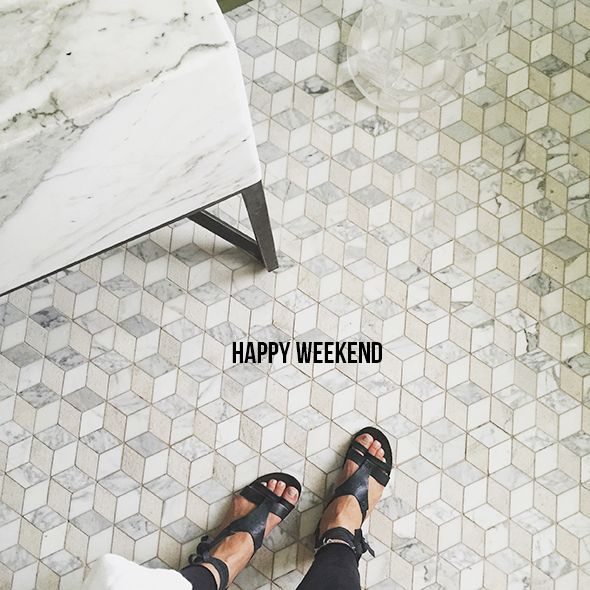 (Michael knows that any time I'm putting on shoes that tie, I mean business and stuff is going to get DONE! That usually means I'm wearing sneakers, but these cute sandals have a tie on them, and they're crazy comfortable, so they count!)
What inspires you to get through the stressful days? I'll admit it – sometimes I bribe myself with a little present. Like, if I buy myself a new candle, I'll be about ten times more likely to give the house a good cleaning/organizing session. If I'm wearing new shoes, I'll be more excited to go to the slab yard for the 20th time this week.
I'm already set for the weekend because
I got a pretty fiddle leaf
at Home Depot this week for only $37 and I found two of the
West Elm bullet planter bases
at an outlet place here called DownEast Home for about $25! Super score. I want to plant the fig tree in the bigger size base up in the studio, but I need to find a planter that fits the stand first.
What are you up to this weekend? Besides all the cleaning and organizing, we are finishing up a playhouse Michael and I have been building for the girls here and there over the past couple of weeks. Can't wait to share! xo