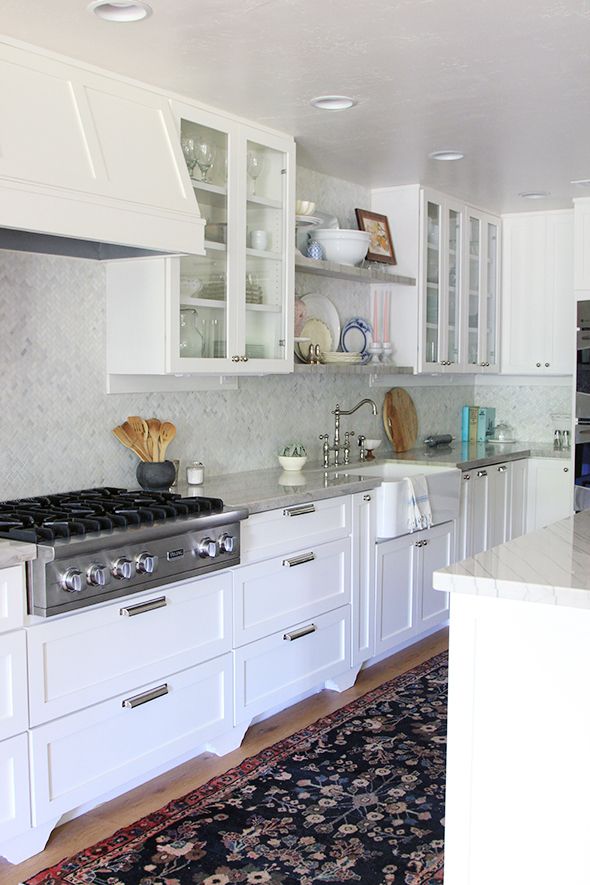 A big kitchen with a lot of counter space can present a styling challenge. Too many things and the space will look cluttered quickly, but not enough accessories in a big space looks sparse and unfinished. It's a fine line!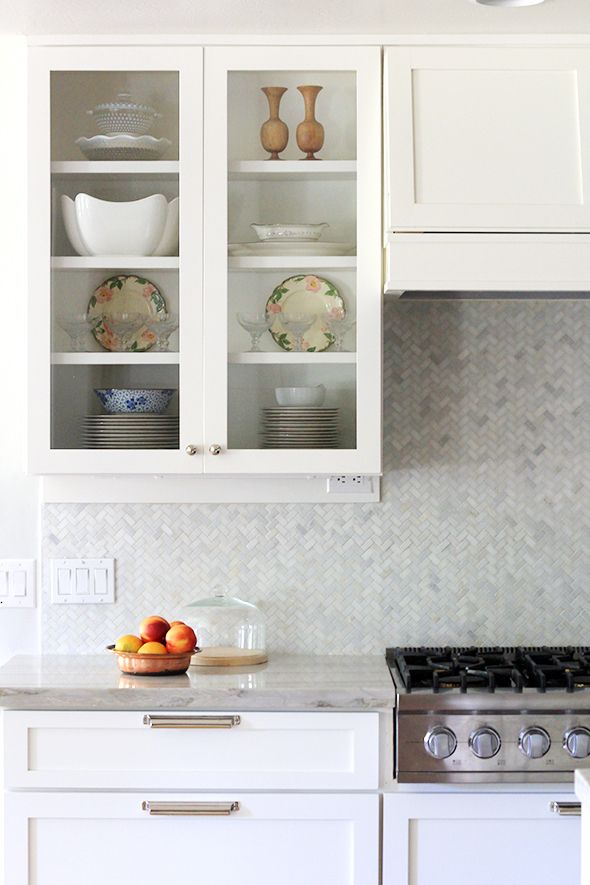 For the most part, I like countertops to be pretty clear but I think it's fun to add color and layers to open shelving. We had some extra quartzite from the counters in my parents kitchen and decided to use it for the open shelves in the dead space above the sink. When it was time to get my parent's more settled in their new kitchen, I brought up a ton of accessories to play with and we also used a lot of family heirlooms that my mom has had for years.
Sometimes an empty shelf can feel like the most daunting thing. Where to start with the styling?? I have listed out the most basic of steps below, but I will say that one helpful tip is to know your shelf height before you start collecting styling items. You obviously don't want items that are too tall to fit, but also be careful to not have too many too-small accessories. Sure, you can stack items to create height, but you want there to be several hero pieces that fill at least 2/3 of the height of your shelves. Paying attention to scale this way helps keep the shelves from getting too busy.
Big, white dishes are the perfect foundation pieces for kitchen shelf styling. I like a few oversized platters (these are from Target and Homegoods), a cake plate or two and a stack of mixing bowls.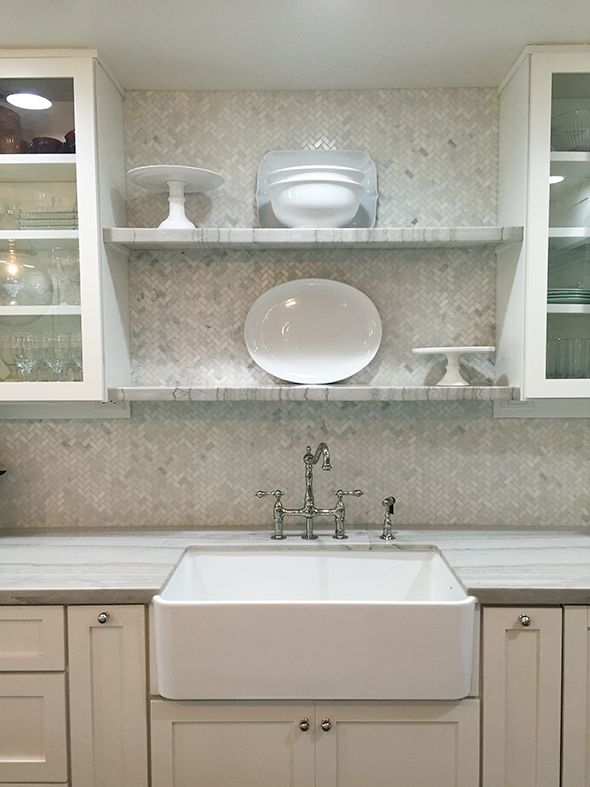 After the big white pieces, I like to add in a few colorful, larger items, like a ginger jar, a flow blue platter and this special Lynne Millar painting I had framed in a pretty burlwood.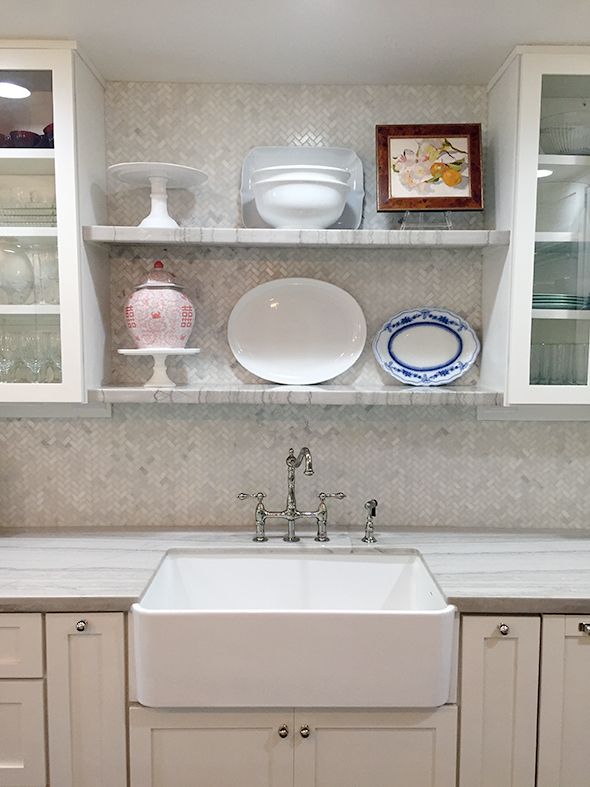 The next step is to fill in the layers with neutral pieces in interesting shapes. This helps things to not get too crazy with color. I added a vintage fluted bowl and a stack of my great grandmother's off-white wedding china here.
Then we added a few smaller items – like marble candle holders and pink tapers, a little blue and white sugar bowl, and a pair of silver salt and pepper shakers. And we added the counter top accessories too. Bread boards are always a great idea (and look so pretty against stone counters) and a little bit of greenery is perfect for every room, including kitchens and bathrooms.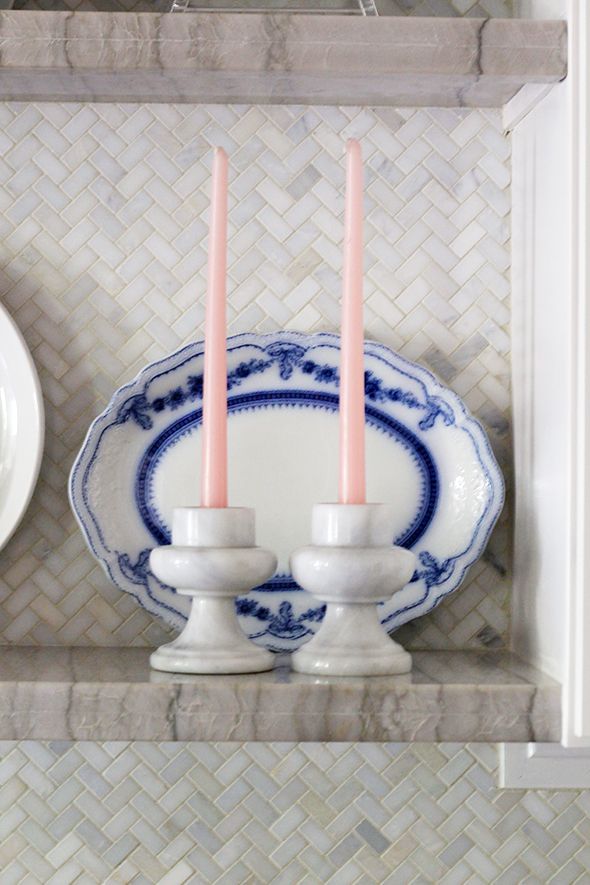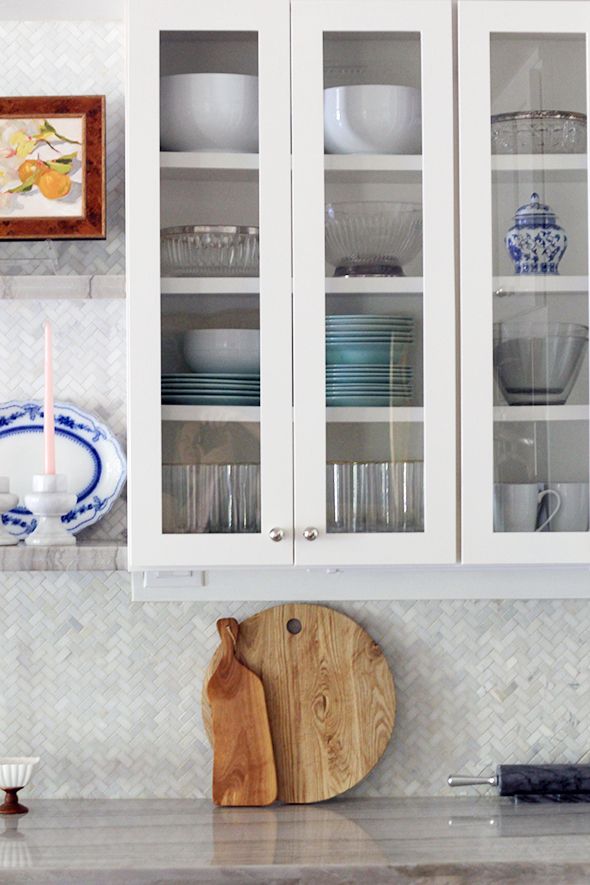 The best part of all is everything can be changed around easily! One of my favorite post-Sunday-dinner-clean-up activities is a good kitchen styling session! :) Here are some of my go-to pieces:
Mercer Platter, Bone China Platter
Mixing Bowl, CB2 Basket Bowl, Marble Cake Stands
Blue Tea Container, Jade Beater Bowl, Lynne Millar- Yellow Rose 1
Marble Salt and Pepper, Salt Cellar, Wood Candlesticks
Heritage Bread Board, Iona Cheese Boards
Linen Market Dishtowels, Morandi Pitcher
What am I missing in this list? Do you have a favorite oversized white platter or bread board source?