Do you know what the best kind of party is? An awards-show-watching party! You get to spend a few hours with your favorite people AND there is built-in entertainment, and of course lots of lounging….and eating. :)
We had a couple of friends over to watch the Emmy's this weekend and I wanted to spruce things up a little in our family room beforehand. I swung into Target on Saturday to shop their new *AMAZING* fall line, which I'm sure you've seen all over social media. It's good, guys. Real good. I think it only takes a few key additions – and just about five minutes of effort – to make your home party-worthy! Here are my best party-prep tips:
Tip #1: Splurge on fresh flowers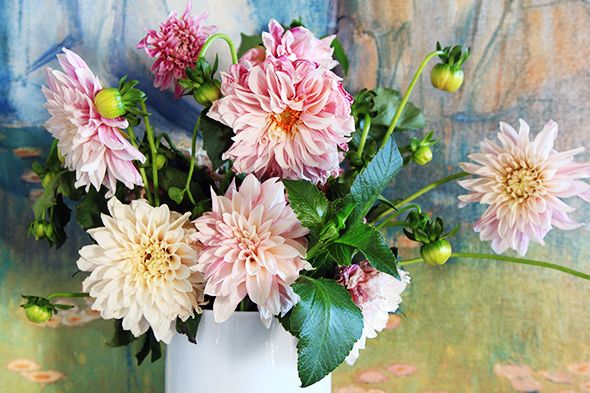 Michael teases me that I like to have people over just so I can go buy flowers guilt-free. It's definitely only like 50% true though. I just know that whenever I am at a party at a friend's house, it's such a sweet surprise to see fresh flowers out! You know what I mean? It's definitely not necessary, but it's a very nice gesture, I think.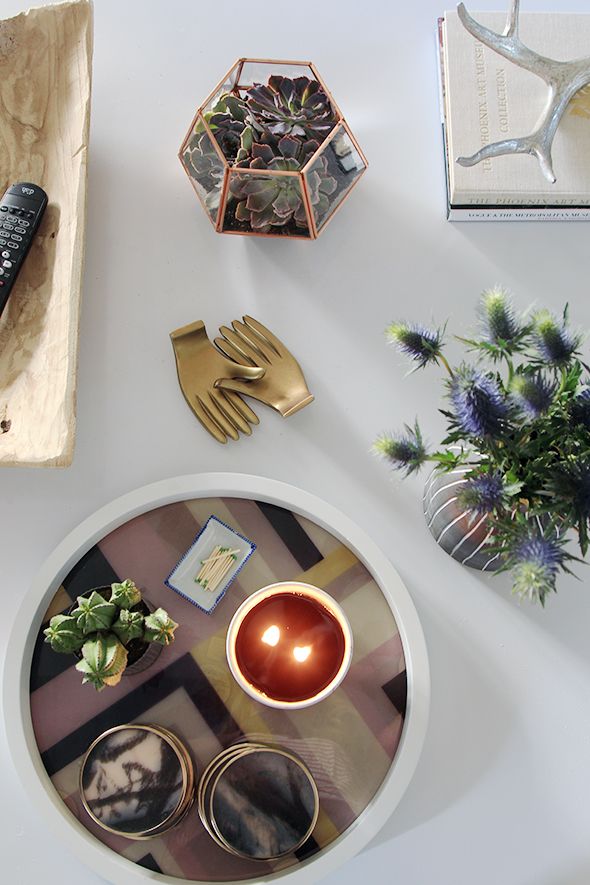 Tip #2: Set up a refreshment station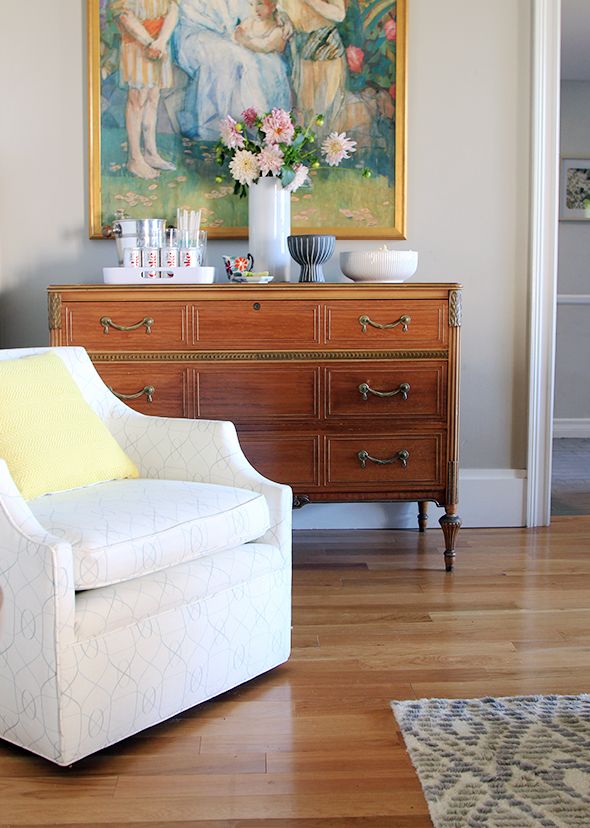 citron pillow
Let's be real. Parties are mostly just a great excuse to eat delicious snacks, right? I wanted to keep it simple for us with this little refreshment station on our tiger wood chest right in our living room. This way no one had to venture into the kitchen for a refresh and potentially miss some especially juicy red carpet moment or Andy Samberg joke. I put out the mixings for Dirty Diet Coke (add pebble ice, a little coconut syrup, a dash of heavy cream and lime wedge or two) and a couple big bowls of homemade kettle corn (a new family favorite). It's so easy to make it on the stove and it tastes SO much better than microwave popcorn.
I heat up a few tablespoons of coconut oil in a big lidded pot with three kernels in the oil. As soon as the oil is hot enough to pop all three of the test kernels, I add a half cup of popcorn kernels and a quarter cup of sugar, and shake the pan until the popping starts to slow down. Add a little salt, and you'll never go back to microwave popcorn again! This big, wide bowl is gorgeous and perfect for serving your sweet/salty masterpiece. And of course, a handful of peanut butter M&Ms makes life worth living, especially when served in such a pretty footed bowl!
Tip #3: Burn your best candles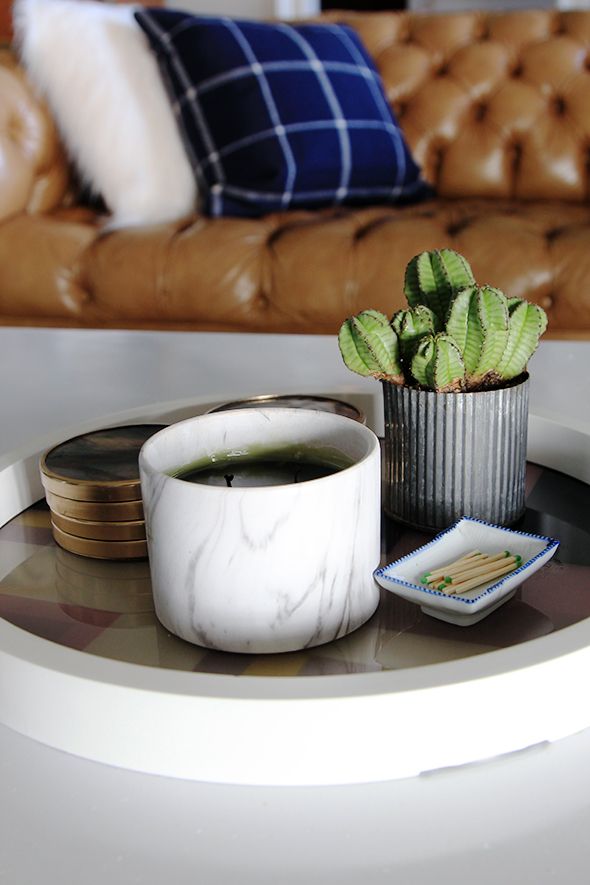 marble candle // tray
I'll admit it. I am a recovering candle hoarder. In the past I've had a tendency to buy a special candle only to tuck it away in the cleaning closet, never to be burned or enjoyed. That was the old Jenny though! Now there is no candle safe when I'm around. Light 'em up! Breathe in deep the sweet scents!
Tip #4: Keep your guests comfortable with extra pillows and foot stools!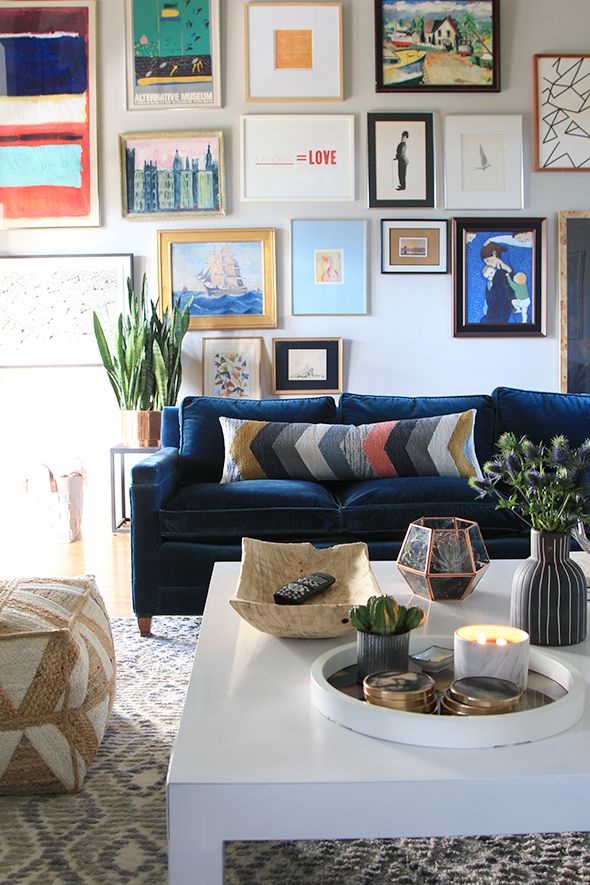 I really wanted a new bolster pillow for the blue velvet sofa so I whip-stitched together this adorable
Nate Berkus throw rug
to make a long pillow. It was the perfect size for an insert I already had on hand.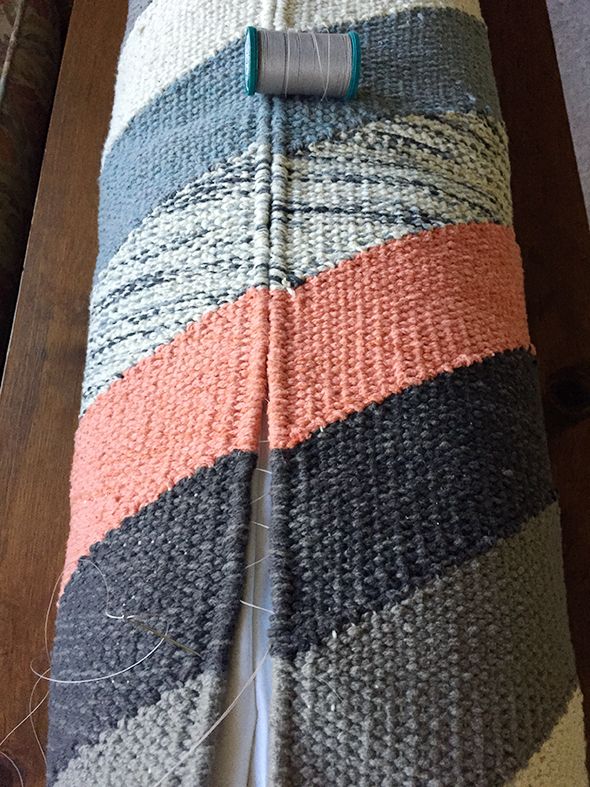 I really love how the color looks in our living room!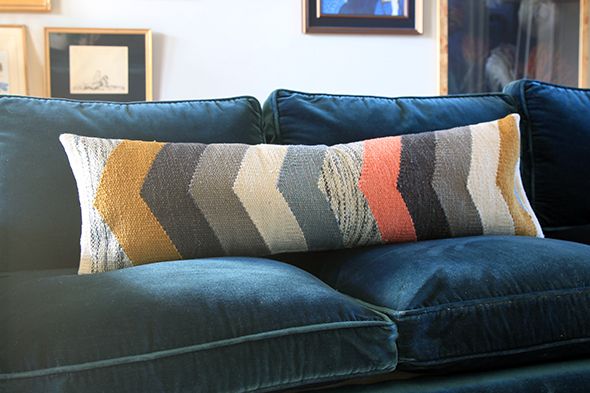 I also grabbed two new pillows for the chesterfield settee. A big part of me would love at least five of every thing in the new plaid line at Target, but for sure, I want to put these big, soft
navy plaid pillows
in every room in my house. They are so good! And I love how they pair with the
faux fur pillow
.
I always like to have little stools and ottomans floating around my living room. It's nice to have a place to comfortably put up your feet – or even an extra place to sit in a pinch.
This adorable pouf
was on clearance (they have it in black and natural too – so cool!).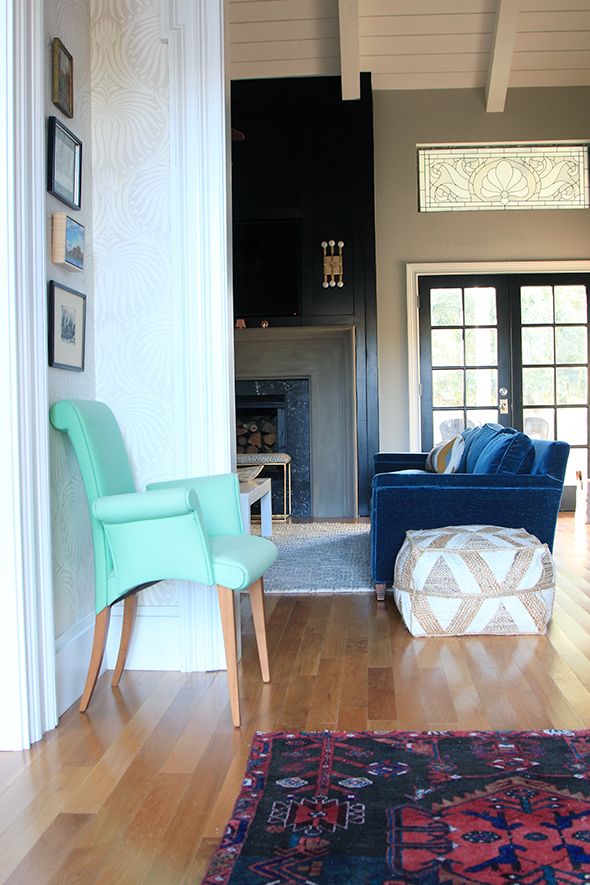 These little
belt strap stools
were on clearance too! I love the Jens Risom inspiration!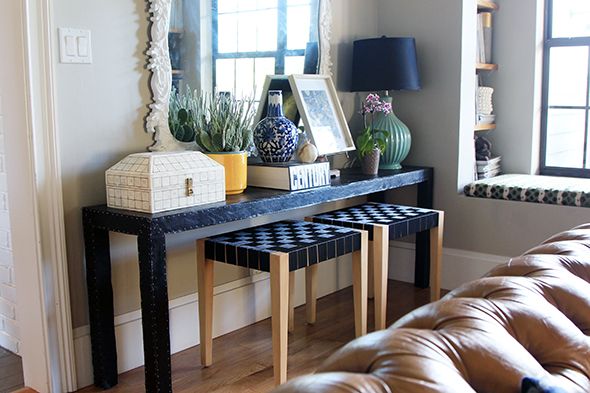 Tip #5: Free up some space on your coffee table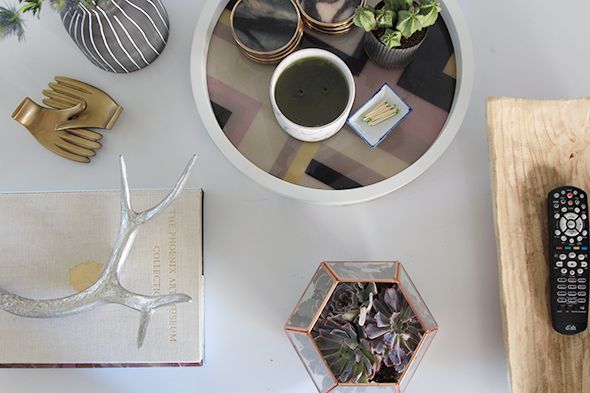 If you're like me, you keep your coffee table loaded with books and magazines and all sorts of other bits and baubles. A party is a good time to clear everything away and get back to the essentials so there's room for your guests to get comfortable and have a place to set down their drinks and snacks.
My coffee table is big, so my essentials included a beautiful wooden bowl to coral our remote, some emergency reading material (isn't that guilded antler sitting on top cool?), a tray with a candle and coasters, a couple little plants and a flower arrangement. That copper-faceted planter is pretty much my new favorite thing.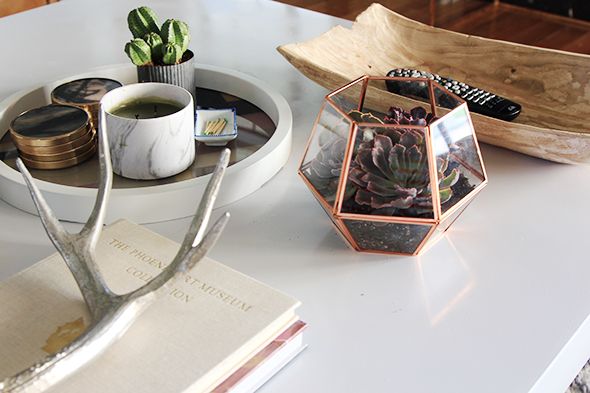 What TV-watching party tips do you have? We only have a few shows that we watch religiously and Last Man on Earth is one of them, for sure. It is snort-laugh funny! The season premiere is this coming weekend, so I might just have to throw another party now that my living room's all ready to go. :)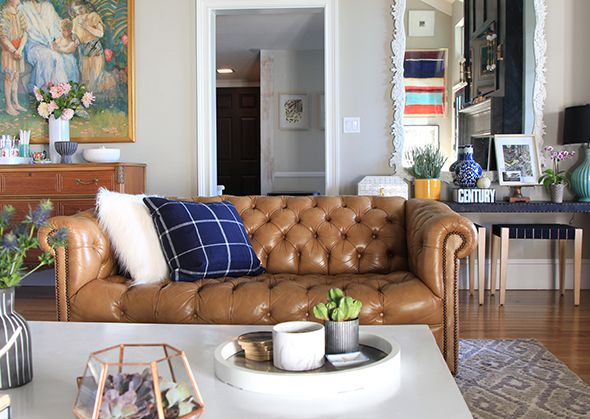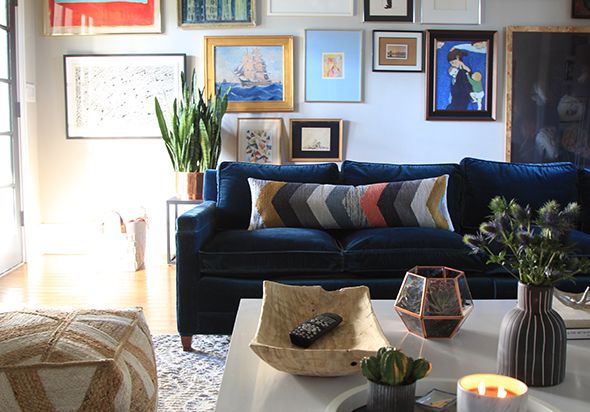 This post is brought to you by Target Style. Shop the new Home collection in stores and online.