One of our local clients is replacing all of her downstairs floors this fall and requested a porcelain wood tile. As I've been looking around for her, I've been floored (ha! pun.) by the amazing options available right now! Wood tile has come SO far the past few years.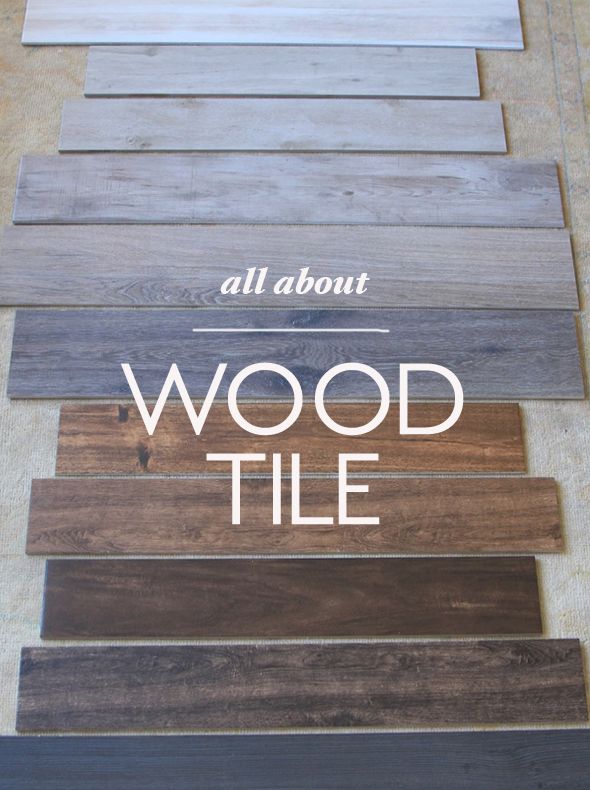 I do love the softer feel and warmth of real wood underfoot, but sometimes it really makes sense to use a wood tile instead. Because tile is completely waterproof and scratch resistant (I wish I could say the same for my wood floors we put in only two years ago…), it is a super smart option for homes built on concrete slabs and for pet owners. Also, since the tile can be installed in kitchens and bathrooms without worry, it's a great option for more open concept homes. It's nice to be able to install the wood tile everywhere without transitions.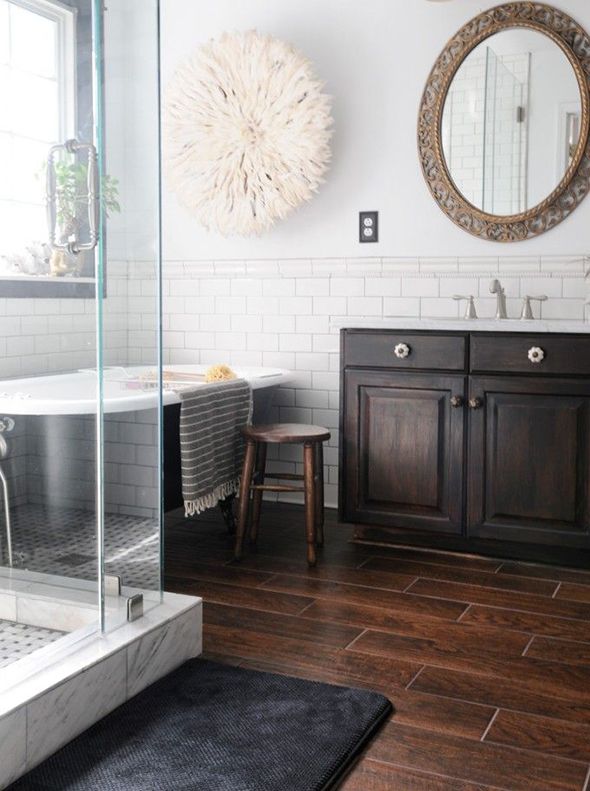 I picked up these samples from my local Floor & Decor – they had two full rows of just wood tile options. Each of these are under $4.25/sq foot! Insane pricing!!
If you're thinking of wood tile for your home, here are my best tips:
1) Choose a tile with a more subtle wood texture and a pattern made by an inkjet with a lot of pattern variation. Some of these tiles have as many as ten different pattern variations in each colorway.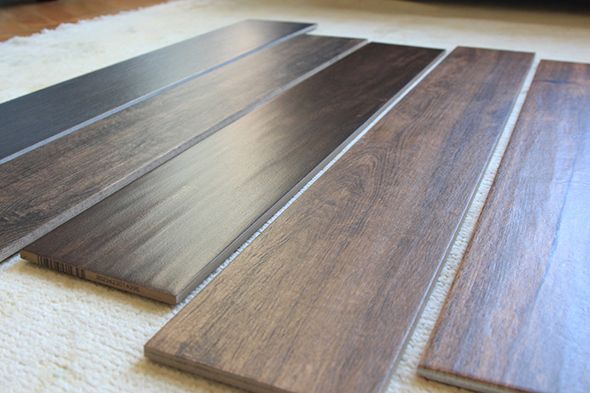 2) Since there are pattern repeats, be sure to rotate the orientation of the tiles often to help break up the overall look. You don't want to be able to spot the same pattern in one glance!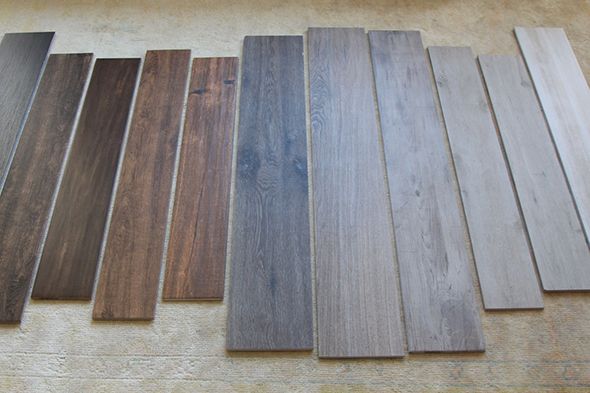 3) Choose a tile with a rectified edge rather than a pressed edge. You can get much tighter grout lines with tile that has more exact edges.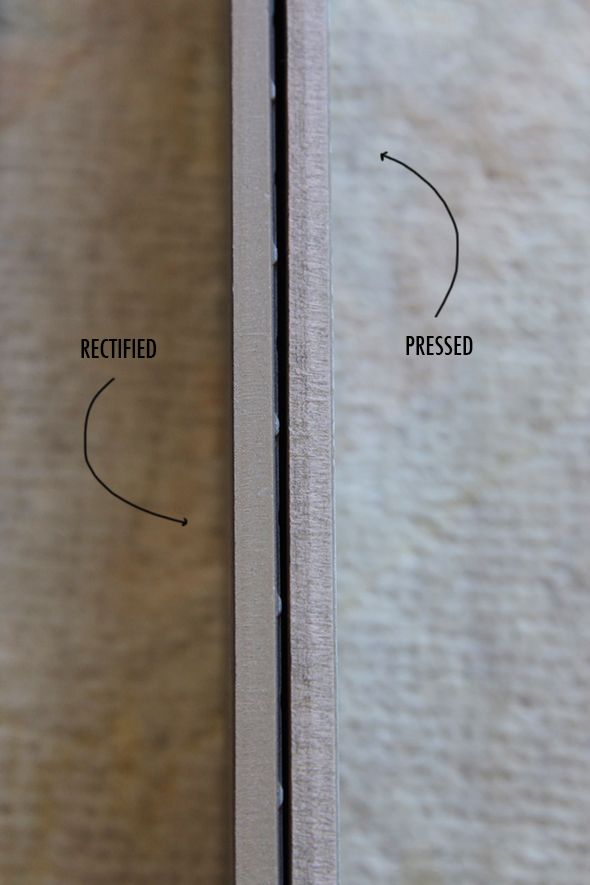 4) Wood-look tiles come in a few different forms – ceramic, porcelain and concrete. Porcelain is considered the best choice. It's super hard-wearing and affordable.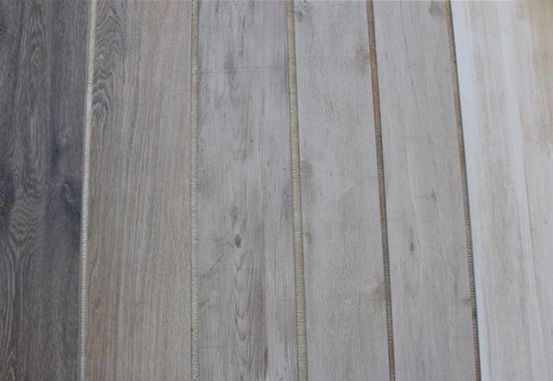 5) When you're choosing a grout color, find the darkest color in your tile and chose one shade deeper for your grout color. This tricks the eye into thinking that the grout lines are shadow around the "wood planks" especially if you have a rectified edge tile and really small grout lines. Floor & Decor sells a great line of pre-mixed super stain-resistant grout that comes in a million different colors. It's so easy to find a shade that works best!
6) Generally I like wood tile planks to be at least 40″ long, but 48″ or longer is ideal. The shorter planks can be a give away and make it harder to trick the eye into thinking the tile is actually wood.
7) If you've found a wood tile that you really love, but it only comes in 24 or 30″ planks, like many of them do, try a herringbone pattern with the shorter planks. The proportions will be just right!
8) Sometimes people think it's a good idea to lay wood tile in a stacked, geometric tile pattern (like a running bond pattern), but that's another give away that your flooring is not actually wood. Laying the tile in a very random order, just like real wood, helps trick the eye.
Those are my best tips for choosing a great wood tile! Do you have any to add? One of my friends is putting this tile in her house in a herringbone pattern and it is looking amazing! I'm thinking something similar would be great for my client's home.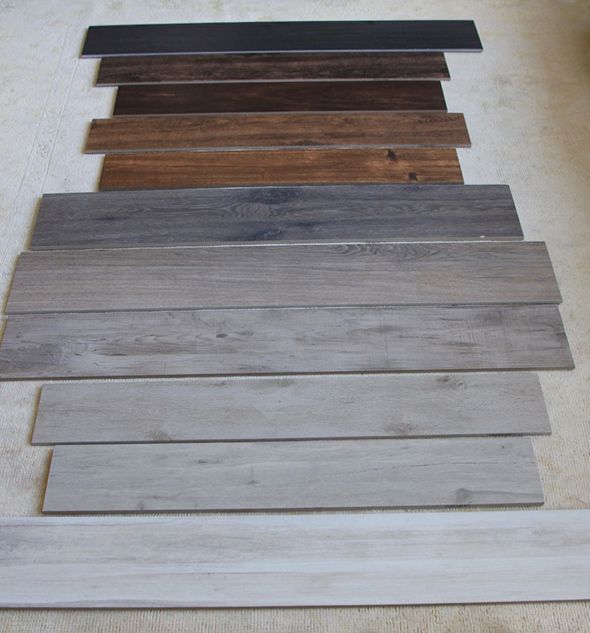 A big thanks to Floor & Decor for sponsoring this flooring series! Check out my last post on decorative tiles here.